You know what they say when a womxn cuts their hair— they're ready for a BIG change in their life! For months, I had been thinking about getting a big chop haircut. I was ready to try something new and I decided to go for a cute, pixie haircut style.
Why? Well, for one, I was tired of dealing with the stressful upkeep of my long curls. My hair got tangled very easily and it just took too long to style it.
And I've been experiencing many positive changes in my life lately. I felt a new hairstyle, especially a haircut, would signify the beginning of a new chapter in my life.
So I woke up early one morning and said to myself, "I'm going to do it!" It was time and I was ready for a change.
For six years, I grew out my hair. My hair got pretty long, too. If I wore it straight (which I stopped doing over six years ago), it went past my shoulders.
But when I wore my hair curly, my curls rested on my shoulders. On a very humid day, I had major shrinkage and it appeared as if my hair was shorter.
Somehow over the years, I seemed to have stopped going to get my hair done. When I lived in Tennessee, I used to keep up with going to the salon. But after we moved to Michigan, I don't know what happened. I just got so busy with my kids and family life.
So I forgot about it. I guess I also kind of forgot about myself.
But not anymore! I made a promise to myself to remember to take care of myself, especially during these stressful times.
Has that ever happened to you, too?
---
---
Last year, actress Tia Mowry got a lovely, pixie haircut. In her Instagram post, Tia shared she felt it was time. "This is me," The Game actress wrote. "#selfcare isn't selfish."
I remember when comedian Tiffany Haddish also did the big chop last summer. She even did it on Instagram Live! "I already feel lighter," Tiffany said on the IG Live feed. "I feel like all the bullshit of 2020 is almost off."
In her post, Tiffany wrote, "I cut all my hair off cause I want to see my scalp. I know my whole body I know where every mole is but I don't know my Scalp. So hello Scalp #SheReady to everything."
Just a few weeks ago, actress and Red Table Talk co-host Jada Pinkett Smith shaved her hair off. She shared her story a couple of years ago about having issues with hair loss.
Jada shared a selfie photo with daughter Willow showing off her new look. "Willow made me do it because it was time to let go," the actress wrote on an IG post. "BUT … my 50's are bout to be Divinely lit with this shed."
And about a week later, actress Gabrielle Union also got a big chop haircut. "So, I did a thing," the actress wrote on her IG post.
"The movies always show women cutting their hair when all is lost but I wanted to know the feeling of making a change when things are gravy. It hits different and its foreign to me but I [love] this new new."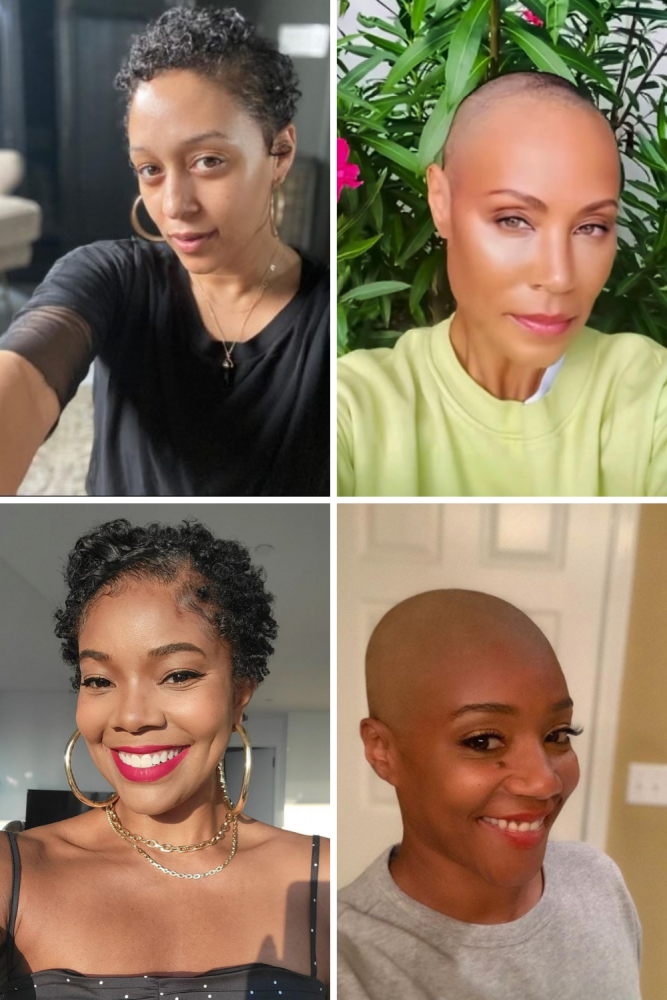 "For women of color, in addition to potentially symbolizing the beginning of a new chapter in life, cutting your hair (also referred to as "the big chop" in the POC community) is often a form of liberating self-expression, as well."

Julia Guerra, Elite Daily
It's amazing how a haircut or a new hairstyle can be so freeing and help you begin a new journey in your life.
After Ali, hairstylist at Dye Salon, cut my hair, I felt like a weight had been lifted off of me.
I miss my long, curly hair just a little. My favorite part about having big hair is I loved how it framed my face.
But having short hair feels so freeing to me. I love how it doesn't get super tangled anymore and it drastically cuts down my hairstyling time. And with all of this summer heat, I even feel a little cooler with my new pixie haircut.
Later, when I got back home from the salon, I found my neighbor sitting outside on her porch with her family. She was so excited to see my new look. We started talking about how refreshing it feels to get a new haircut.
"It's liberating," she said to me.
That's exactly how I feel right now!
---
Photos of actresses Tia Mowry, Jada Pinket Smith, Tiffany Haddish, and Gabrielle Union are courtesy of each actress' Instagram. All other photographs are courtesy of Jennifer Hamra for Good Life Detroit.
Visit Dye Salon in Ferndale and make sure you ask for Ali! Click here to connect to the official website. You can also view Ali's work on her Instagram here. (Not a sponsored post!)
---
ALSO, CHECK OUT ON THE BLOG:
OVER ON INSTAGRAM