Where do you love to eat brunch? A few weeks ago, I met up with my friend Jaslyn for brunch at Babo Detroit. She's a brunch connoisseur and knows all of the best places to brunch in Detroit.
The first time Jas and I connected was about two years ago. We had brunch at La Dolce Vita and she introduced me to the world of brunching. Haven't been the same since! It is now one of my favorite things to do in Detroit.
To Jas, brunch is an art! "It's the way in which people cook the eggs. It's the way in which they complete the sauce," says Jasyln at our first meeting two years ago.
"It's the way in which they put the eggs on the potatoes. It's the way the potatoes look… I think brunch should be every single day!"
At Babo Detroit, I had the Frida Skillet (because I love Frida!) and Jas had the Diego Skillet. She also ordered a side of Lemon Ricotta Pancakes (see the delicious pic below) for us to share.
The Frida Skillet comes with two eggs cooked to your preference (I had mine over-medium). The eggs are placed on top of diced sweet potatoes, baby kale, candied pecans, and goat cheese.
Why didn't I ever think to cook sweet potatoes with my eggs?! And candied pecans with goat cheese? KALE YEAH! This was such a good combo!
The Lemon Ricotta Pancakes were SO good! It's buttermilk pancakes with lemon zest, fresh ricotta, and blueberries.
Jas had the Diego Skillet. This dish consists of two eggs (cooked how you like) with home fries, chorizo, peppers, pico de gallo, and guacamole. She also ordered a side of bacon to go with her meal.
You can't forget the Mimosas at brunch! It's a brunch favorite for many people. Jas had a Rose Mimosa and it was beautifully topped with real rose petals. Cheers!
Oh! And after brunch, you can enjoy a nice stroll at the DIA because the restaurant is located right across the street from the art museum.
Perfect for a date with your sweetie or a visit with your family and friends.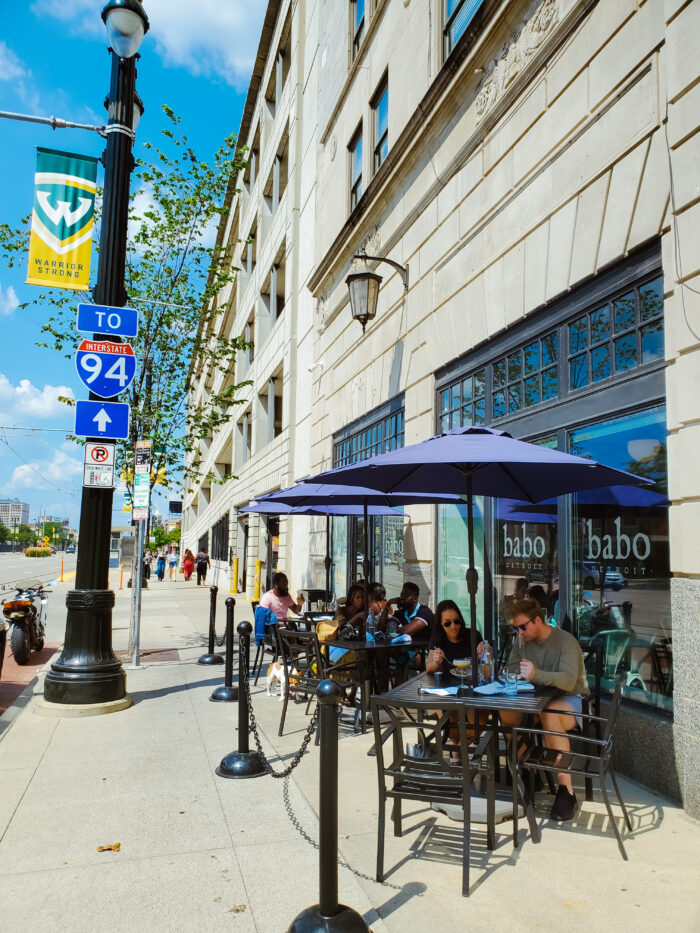 Thanks for meeting me for brunch, Jas! Visit the restaurant at 15 E. Kirby Street #115 in Detroit and online here.
P.S.– my skirt is from Mama Coo's Boutique in Corktown, Detroit!
---
All photographs were taken by Jennifer Hamra for Good Life Detroit.
FOLLOW ON SOCIAL MEDIA: FACEBOOK | INSTAGRAM | PINTEREST | TWITTER.
ALSO, CHECK OUT ON THE BLOG: