I had just wrapped up a maternity photoshoot at the Z Lot in Downtown Detroit. This was a unique experience for me because this time I wasn't the one behind the camera. I was the subject and the photographer was Jason Walker, a Metro Detroit-based photographer who specializes in portrait photography.
I had never had my photographs professionally made for a pregnancy before and I thought it would be a fun idea to document my third trimester of pregnancy. I asked Jason if he would be interested in photographing me and he happily agreed to the project.
After the maternity shoot, we started talking about photography. It was a perfect opportunity for me to interview Jason for a new photography series I had been working on– Detroit Behind the Lens.
What's Detroit Behind the Lens?
Detroit Behind the Lens is a new photography blog series featuring interviews with Detroit- and Metro Detroit-based photographers. There are so many talented photographers on Instagram right now, and I really wanted to do something to share their work with others. The new blog series is a work in progress. I am still brainstorming about how to best feature this new photography series, but I am excited to begin the new project!
I am also delighted Jason Walker so graciously agreed to be my first photographer to interview for this series. If you are a photographer and would like to have your work featured on the blog, send me an email so we can discuss it and schedule a time to meet!
*All photographs were used with permission from Jason Walker.
Jason Walker, @thisaintjason on Instagram, is a Metro Detroit-based photographer who enjoys car photography, portrait photography, and street photography. Originally from the Detroit area, Jason has been shooting for three years. He first got his start in photography with his current job, shooting with a Canon Rebel xti. He attended art school at College for Creative Studies in Detroit. His background is in graphic design, illustration, and web design.
He has worked with Go Comedy! Improv Theater in Ferndale, Michigan for their Hamilton Fully Loaded show and he photographed headshots of the entire cast. Jason has done headshots for actress Jaime Moyer, who has appeared on Disney's KC Undercover, Modern Family, 2 Broke Girls, and Parks & Recreation.
A series of Walker's photographs were also selected by The Guardian for a feature on Slow Roll Detroit entitled "Pimp My Bike: Detroit's Custom Cycles- in Pictures".
Learning from the Greats
"I've been doing a lot of reading lately," Jason said in regards to his studying the work of other famous photographers. One of his photography goals is to continue learning more about photography and enhance his own artistic style. Jason said he's trying to "learn from the greats" by studying street photography and applying what he has learned to his photography.
He is currently studying photographers Ernst Haas, William Eggleston, and Richard Avedon. "Ernst Haas is my favorite right now," Jason told me. "The guys that started out doing color [photography] and nailed it right off the bat, those are the ones I like a lot."
Jason explained Ernst Haas is one of his favorite photographers because he loves his abstract color photography. Haas was one of the first color photographers, in the early 60s, to appear in Life magazine and at the Museum of Modern Art New York.
"He did commercial photography and it was kind of controversial whether he was considered good or not," Jason told me. "Some people, some critics, felt that he wasn't that good, but there are books that came out a decade ago that showed more of his color work and it was a lot of his stuff he shot personally– the street stuff. And it's just amazing because it will be abstract stuff of like the cracks in the wall and it's amazing."
Collaborating with Nick Fancher
Another photographer Jason is a big fan of is Ohio-based photographer Nick Fancher. Fancher is currently working as a commercial and portrait photographer. He hosts workshops for photographers who are wanting to enhance their photography skills. According to Nick Fancher's official website, he specializes in using "minimal gear in unconventional locations."
A few months ago, Jason took Fancher's light workshop "Studio Anywhere" in Columbus, Ohio. At the workshop, he learned how to work with minimal light and how to set up a studio look with minimal camera gear. He also assisted Fancher in Pontiac, Michigan with Fancher's June 25th photography light workshop.
More About Jason Walker, @thisaintjason
Camera gear of choice: Jason shoots with a Fuji X-T10 and uses a 70-200mm lens.
Favorite photographers on Instagram: @joshkjack, @katetparker, and @photodre
Current photography projects by @thisaintjason: Jason is always working on building his photography portfolio. His current projects are documenting his family members who run various businesses. He is also currently working on photographing Slow Roll Detroit.
Black and white photography or color photography? Jason says it's a mix of the two art forms. He likes to edit his photographs in both black and white and color photography.
Favorite photograph you have taken? Jason's favorite photograph he took is a black and white photograph of his daughter on the roof of Z Lot in Downtown Detroit. "It was when I really started taking [photography] seriously when I started out, and that was when I felt like I was getting somewhere."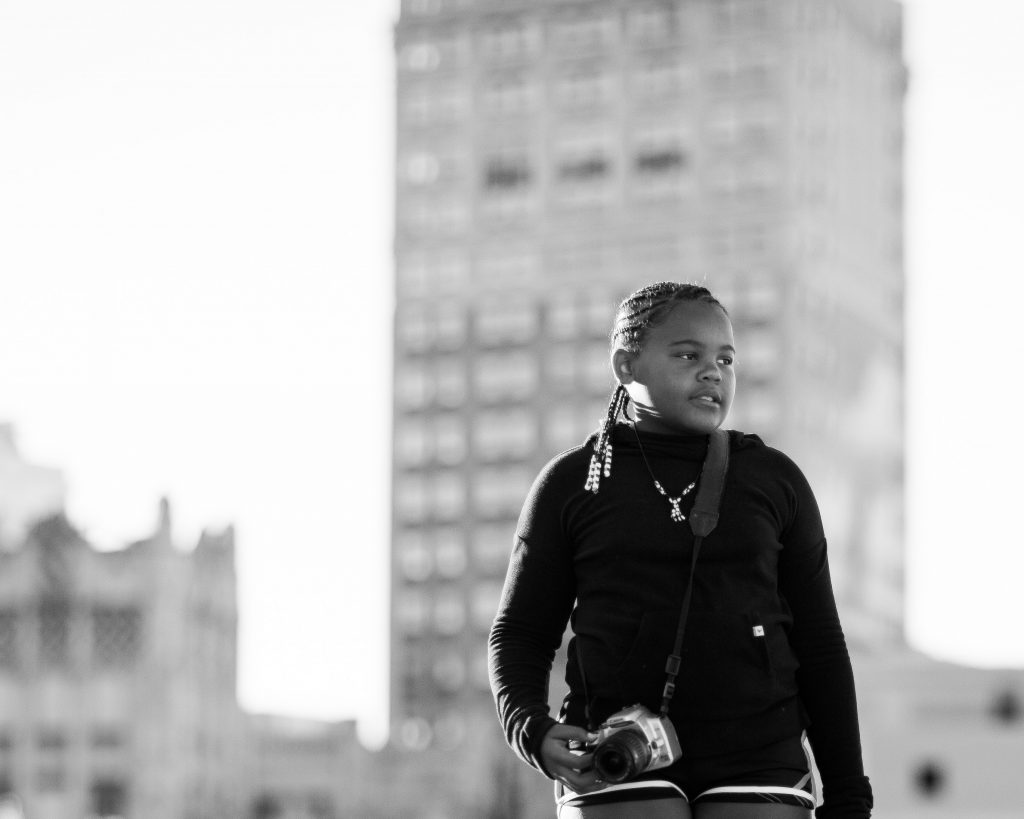 If you would like to view more of Jason Walker's work or contact him, you can contact him on his Instagram @thisaintjason.
Special thanks to Jason Walker for sharing his photography with Good Life Detroit!