Last week, we went to Southwest Detroit to view Día de Los Muertos Ofrendas at local businesses. For the past three years now, we have reserved time at the end of October for our homeschool studies to learn about Día de Los Muertos (Day of the Dead).
The kids showed a great interest in learning about Day of the Dead after we watched the Disney movie Coco. They LOVE Coco! But if I'm being honest, I may love it a little more than them. It's my go-to animated movie to watch whenever I sign into our Disney Plus account.
Coco is such a charming movie. It always makes me cry when I watch it. Have you seen it yet? If you haven't, then you must watch it as soon as you can. I love the vibrant colors and beautiful music. The film's overall message about family, love, and unity will warm your heart.
Ever since we watched Coco, it has become a tradition for us to do a homeschool unit on Día de Los Muertos. Last year, we went to the Detroit Institute of Arts to see the ofrendas art exhibit. This is also an annual Day of the Dead tradition in Detroit.
What is Día de Los Muertos?
Día de Los Muertos is a multi-day holiday celebrated throughout Mexico that coincides with the Catholic observances of All Saints' Eve (Oct. 31), All Saints' Day (Nov. 1) and All Souls' Day (Nov. 2).

It is the time of year when individuals believe the boundaries between the living and the dead become permeable, allowing the souls of the departed to travel back to visit loved ones.

Elaborate Ofrendas are created with pictures of loved ones, food, flowers, candles, religious symbols and other traditional decorations such as sugar skulls, papel picado (pecked paper) and pan de muerto (bread of the dead). Visits to local cemeteries to honor loved ones are also very common.

Southwest Detroit Business Association
Exploring Día de Los Muertos Ofrendas in Southwest Detroit
This year, we thought we'd try something new for Day of the Dead and visit Mexicantown Detroit, as the Southwest Detroit area is fondly called. Twenty-two Detroit businesses and organizations created beautiful ofrendas and invited the public to come to see them. There was also an option for viewing the Ofrendas virtually. We chose to see the altars in-person so we could also do a little bit of shopping at our favorite businesses.
The Southwest Detroit Business Association (SDBA) created a digital brochure that highlighted the ofrendas so we printed it out and used it as our guide. Zhen loved the brochure because she said the map made her feel like we were on a treasure hunt.
Here are a few pictures of our visit to see the Día de Los Muertos Ofrendas.
Our first stop was at one of my favorite Detroit vintage shops— Mama Coo's Boutique. Store owner Lana Rodriguez and staff members painted a lovely Día de Los Muertos art piece in the store's front window.
Next, we stopped by La Gloria Bakery for their yummy baked goods. This was the kids favorite part of our visit, of course. They loved picking out their own cookies and they were amazed to discover the sugar skull treats.
I spotted a Frida mural while we were in Mexicantown. Artist Elton Monroy painted this beautiful piece. When Zhen saw the mural, she yelled, "Mom, look! It's Frida!" Everyone who knows me knows how much I love Frida. It made me happy that Zhen now recognizes Frida's image, too.
Oh! Elton Monroy also painted this beautiful Sixto Rodriguez mural, also located in Southwest Detroit. I love the way the rainbow colors look like it's bursting from the windows. I can't wait to see the mural in person!
Our next stop was at the beautiful Xochi's Gift Shop. The Día de Los Muertos ofrendas window display was absolutely stunning! And I loved the Day of the Dead altars inside of the store, too.
After our visit, I learned that Xochi specializes in Mexican folk art, handmade crafts, clay pottery, unique jewelry, and more gifts. I saw many items that I think will make great Christmas gifts for family and friends so I plan to visit the shop again soon.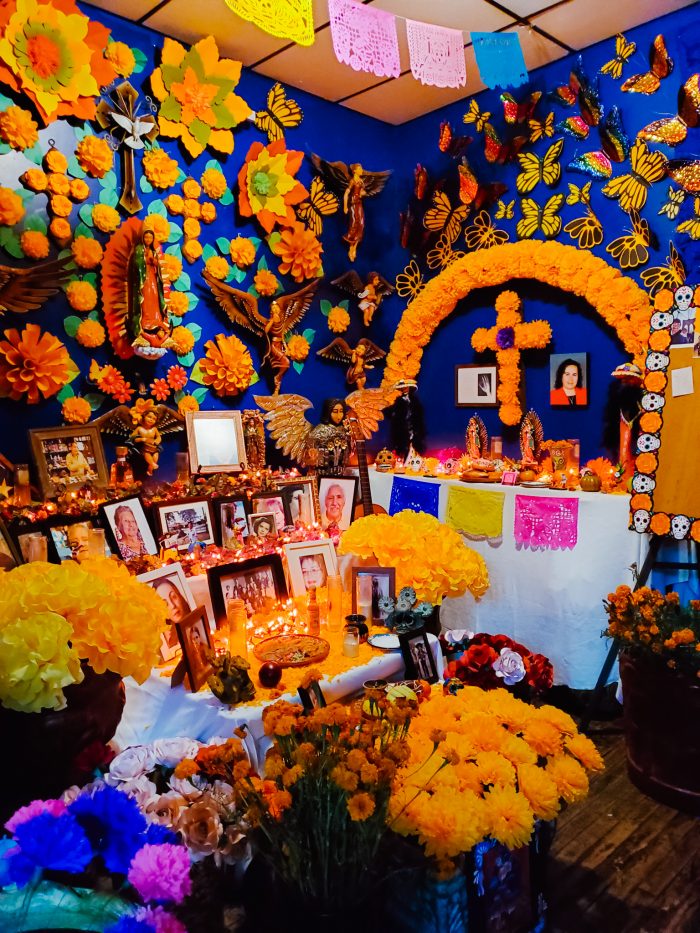 Our last stop was at another vintage store I love– Flamingo Vintage. Store owner Nikki Neuzil created an Ofrendas in honor of her grandmother.
When the kids read the name of the store "Flamingo", they kept asking me if there were real flamingos inside. Haha! Last year, Elijah found a cool leather jacket at Flamingo Vintage. He loves that jacket so much that he wears it pretty much year-round!
It was so nice to hang out in Mexicantown and learn more about Día de Los Muertos. I think that was our first time back since the beginning of the pandemic. Before this horrid virus hit, we used to go to Southwest Detroit regularly to shop, eat dinner, and enjoy dessert at the ice cream shops. I noticed there are quite a few businesses in Southwest Detroit that are open now so make sure you stop by and show your support. And don't forget to wear your mask! 😉
---
ALSO, CHECK OUT ON THE BLOG:
OVER ON INSTAGRAM
All photographs are courtesy of Jennifer Hamra for Good Life Detroit unless otherwise noted.