Happy Halloween! Creating DIY Halloween costumes for the kids has become a treasured Halloween family tradition for us. It saves us money and the kids enjoy wearing their creations!
Today, I'm sharing photos of the fun (and spooky) Halloween costumes we created this year.
---
Throughout the month of October, Zephaniah (4) would describe anything Halloween-related as "spooktacular!"
He must've heard the word used in a Halloween show we watched because I'm not really sure how he discovered the spooky adjective. But it was so cute hearing him describe everything as "spooktacular!"
So it only seemed fitting to entitle this blog post as "Our Spooktacular Halloween"! 🙂
How was your Halloween? Did you dress up in costume or do anything fun? We love traditional trick or treating and it's our family tradition to go every year.
Last year, we didn't go, of course, so we were excited to resume our treasured family tradition again this year.
To help save money, we decided to focus on DIY Halloween costumes and use materials we could find at home, the Dollar Tree, or the thrift store.
Here's what we came up with for Halloween 2021.
THE CORPSE BRIDE
Zhen made a last-minute decision to be The Corpse Bride for Halloween. She had originally planned on being a vampire, but the night before Halloween, I found The Corpse Bride costume packed away in a box in our basement.
A couple of years ago, I had bought the costume at Once Upon a Child in Troy, Michigan. At the time, it was too big for her to wear so I just saved it until she could fit it.
Zhen was so excited to see it that she quickly changed her mind and decided to wear the spooky bridal costume instead!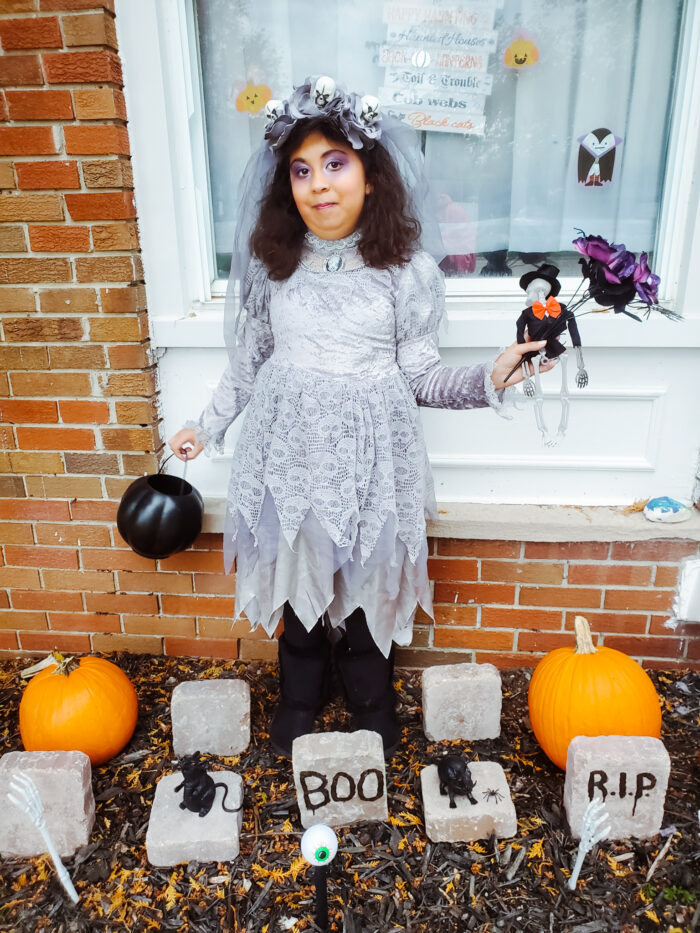 THE CORPSE BRIDE'S MAKEUP AND ACCESSORIES
For Zhen's makeup, I used my Juvias Place "The Violets" eyeshadow palette to create a purple smoky eye look. I added a little blush to her cheeks and darkened her eyebrows with a black Wet N Wild eyebrow pencil.
For her spooky flower bouquet, I used Halloween artificial flowers I bought at the Dollar Tree. It was perfect because the flowers were also a dark purple with blue eyeballs and glittery skulls and spiders.
DIY SUPER MARIO
Zechariah loves the Super Mario Bros. video games so a month ago, he decided he was going to dress up as Super Mario.
Over the weekend, I bought him a pair of denim overalls at Walmart and added white winter gloves to the costume.
I couldn't find a red hat so I came up with a quick idea to repurpose a white baseball cap into Mario's red hat.
I cut up an old, tattered red cape I found in the kids' dress-up box, and I used my hot glue gun to attach the fabric pieces to the white cap. For the "M" logo, I used red and white felt.
Zechariah doesn't really like having face paint on his face and I didn't have a fake mustache for him to wear. So instead, I used felt to create Mario's mustache, nose, and smile, and I just glued it onto his face mask.
Zechariah loved this idea so much that he even wore his face mask at home. LOL!
Travis also used white felt for Mario's "Question Block" aka the "Mystery Block." He drew a question mark pattern onto the felt and used the hot glue gun to stick it to a gold gift box we got at the Dollar Tree.
Zechariah was so excited about his Question Block that he's now keeping it as a decoration!
SUPERHERO (AKA SUPER Z!)
Zephaniah's Halloween costume was pretty simple and it didn't cost us any money. (Yay!) He said he wanted to be a pirate for Halloween, but at the last minute, he changed his mind and decided he wanted to be a superhero.
We have quite a few superhero costumes like Catboy, Owlette, Batman, and Ironman, but he wanted to wear his yellow cape and mask he got from a friend's birthday party this past summer.
I used orange and white felt to create Zephaniah's "Super Z" logo for the back of his cape.
And for his face mask, I made a silly smile and used the hot glue gun to stick it to the front of the mask.
A SWEET LITTLE LADYBUG
And little Zaya was a sweet, little ladybug.
The ladybug costume belonged to Zhen when she was two years old. I had found it in one of the memory boxes I kept from our big move from Tennessee. I bought the wings at Dollar Tree to add to the costume.
She was so cute!
I think the kids' Halloween costumes turned out great! And they had so much fun trick or treating.
At bedtime, Zhen excitedly said, "I loved my costume SO much! Okay, what do you think we should be next year?!"
Hope you had a Happy Halloween! xoxo
---
All photographs are courtesy of Jennifer Hamra for Good Life Detroit.
FOLLOW GLD ON SOCIAL MEDIA: FACEBOOK | INSTAGRAM | PINTEREST | TWITTER.
---
ALSO, CHECK OUT ON THE BLOG: