DIY snowman ornaments for kids are perfect for a Christmas craft idea for holiday gatherings, school parties, or a fun holiday craft at home with the family. Get the tutorial below!
This post may contain affiliate links. When you make a purchase through these recommended links, GLD may earn a small commission. It helps keep our small business up and running. Click here to read my disclosure policy. Thank you for your continued support! xoxo
---
The holiday season is finally here and we have been making DIY holiday crafts for our Christmas tree and home!
Last year, I had bought a pack of DIY clear ornaments at Target's Dollar Spot with intention of creating homemade holiday ornaments. Unfortunately, we didn't get around to using the ornaments so I saved them for Christmas 2021.
When I was unpacking our holiday decor, I found the DIY ornament bags and put them out in our seasonal craft box so I wouldn't forget to use them this year!
---
SPECIAL NOTE: Please note, for the purpose of this craft blog post, I will be using the words "snowman", "snowgirl", and "snowpeople" interchangeably.
---
There are so many fun ways you can decorate DIY Christmas ornaments. Our first project idea was to create cute snowman ornaments!
We used craft supplies from Dollar Tree, Hobby Lobby, Target, and Walmart. Some of the supplies I already had in our craft boxes and other items I had to buy brand new (like the all-purpose clear glue).
Most of the materials this craft calls for, you may already have at home. For instance, common craft supplies you may have are cotton balls, construction paper, fuzzy sticks, and a glue gun.
---
CRAFT TIP: If you're looking to save money for this holiday craft idea, then I recommend checking your local community craft store.
Here in Detroit, Arts & Scraps sells art and craft supplies at a discounted rate. We like to get craft supplies at Arts & Scraps because they have unique finds and it saves us a lot of money!
---
HOW DO YOU MAKE A SNOWMAN ORNAMENT?
For our snowpeople ornaments, we used clear plastic DIY ornaments, iridescent faux snow, cotton balls, googly eyes, orange felt for the nose, and craft jewel studs.
You don't have to make a traditional snowman. The fun part is creating your art the way you like!
The kids got creative with their ornaments and they added earmuffs, bows, and multicolored craft jewels to their snowpeople. We also used the iridescent faux snow to add some sparkle to the ornaments.
And Zechariah wanted his ornament to be a snowgirl, which I thought was a wonderful idea! He added a red bow to the top of his ornament and a matching candy cane earmuff design.
Other creative ideas you can try for this project: a mini scarf, stickers for the face, glitter to add some sparkle, or tinsel to make it shiny.
You could also paint the ornament instead of using cotton balls or use white fabric or white felt.
DIY SNOWPEOPLE ORNAMENTS ARE GREAT FOR HOLIDAY GATHERINGS!
These DIY snowpeople ornaments are perfect for a holiday gathering you're planning with family and friends. If you're a teacher, you can also create these fun ornaments for a class project.
The homemade ornaments would make a wonderful gift idea for loved ones, too!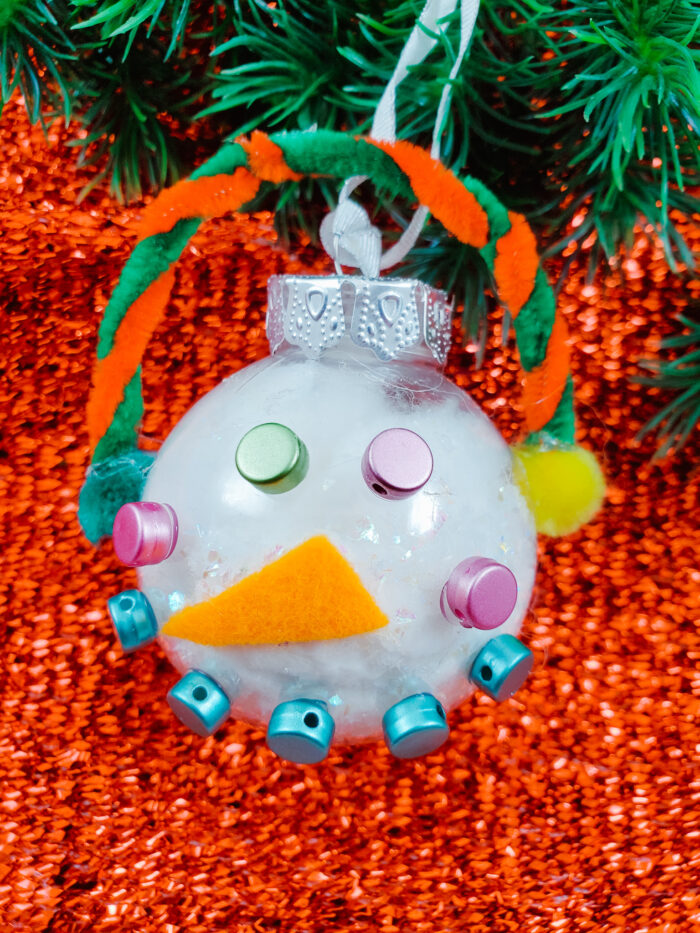 CHRISTMAS CRAFT IDEA: DIY SNOWMAN ORNAMENTS FOR KIDS
Materials you will need:
DIRECTIONS FOR DIY SNOWMAN CRAFT
(There are 12 steps for this snowman craft.)
1. PICK OUT COLORS/OBJECTS FOR CRAFT.
Have your child pick out the colors they would like to use for their craft (earmuffs, bows, craft beads, googly eyes, etc.).
2. POUR CLEAR GLUE INSIDE ORNAMENT.
Pour inside of the clear ornament a little bit of clear all-purpose glue. I poured in a little at a time so the kids didn't make a big mess. Big kids will be able to do this on their own.
3. ROTATE ORNAMENT TO COAT IT WITH GLUE.
Start turning the ornament to coat the inside of the clear ornament with the clear all-purpose glue. Add more glue as needed.
4. POUR IRIDESCENT FAUX SNOW INTO CONTAINER.
Pour a small amount of iridescent faux snow into a small cup or container. A small funnel would also work for this.
5. POUR FAUX SNOW INTO CLEAR ORNAMENT.
Pour your desired amount of iridescent faux snow into the clear ornament. Then start turning the ornament like you did when you poured the clear glue into it.
6. LET GLUE DRY.
When you finish pouring the glue and faux snow into the ornament, let it dry for about 20 to 30 minutes.
7. STUFF COTTON BALLS INSIDE ORNAMENT.
After the glue has dried, add the cotton balls inside of the clear ornament until it is full. Once the ornament is full, place the top back onto the ornament to seal it.
8. ATTACH GOOGLY EYES.
Using your hot glue gun, apply the googly eyes to the outside of the clear ornament.
**VERY IMPORTANT: Children will need adult help for this part. The glue gun gets very hot and the hot glue or the glue gun will burn someone's skin so please be careful.**
9. REPEAT STEP 8 FOR NOSE AND MOUTH.
Repeat step 8 for the nose (use orange felt or orange construction paper) and the mouth.
---
CRAFT TIP: Use a black marker to mark where each object (eyes, nose, mouth, etc.) needs to go on the clear ornament.
I used a black Sharpie marker to make small dots for the eyes, nose, and mouth. That way Zhen and I knew where to place each object. This is also helpful for big kids using the hot glue gun.
---
10. EARMUFFS: MEASURE FUZZY STICK.
Take the fuzzy stick (craft pipe cleaner) and measure how long you will need it to be for the ornament. Cut the stick according to your measurements.
11. EARMUFFS: ATTACH FUZZY BALLS TO EACH SIDE OF ORNAMENT.
Use the hot glue gun to attach the two fuzzy balls to each side of the clear ornament.
12. ATTACH FUZZY STICK TO EACH FUZZY BALL.
Next, put a small amount of hot glue on top of each fuzzy ball. Then attach the fuzzy stick to each fuzzy ball. I bent the fuzzy stick just slightly so it could stick to the glue on the fuzzy ball.
---
CRAFT TIP: Use a clothespin to hold the fuzzy balls when applying the hot glue. That way you or your child won't burn yourself! Remember, supervision is needed if a big kid is using the hot glue gun.
---
After the kids created their snowpeople ornaments, they hung them onto their mini Christmas trees. I had bought them each a white Dollar Tree Christmas tree so they could hang up the ornaments that they make.
Target also sells small Christmas trees for $10 if you want something just a little bigger. Here's one that's 2 ft. if you're interested.
CLICK HERE TO SEE MY DOLLAR TREE CHRISTMAS TREE CRAFT IDEA! In the photo above, I used a Dollar Tree Christmas tree to create a holiday planter with a Christmas mug.
Getting a mini Christmas tree for your kids is a great idea so they can hang up their holiday creations. Plus, it makes a cute holiday decoration! 🙂
Hope you enjoy creating these DIY snowman ornaments with your loved ones! xoxo
---
PHOTO CREDIT NOTE: All photographs are courtesy of Jennifer Hamra for Good Life Detroit.
You may use my craft idea to share on your site, but you must provide the following credit: Good Life Detroit and a link back to this post.
If sharing on social media, please tag me at goodlifedetroit on Facebook, Instagram, Pinterest, and/or Twitter.
Please only reshare photos of the craft and not my children. For further information, you can email me at jennifer@goodlifedetroit.com Thank you! 🙂
---
FOLLOW GLD ON SOCIAL MEDIA: FACEBOOK | INSTAGRAM | PINTEREST | TWITTER.
---
ALSO, CHECK OUT ON THE BLOG: