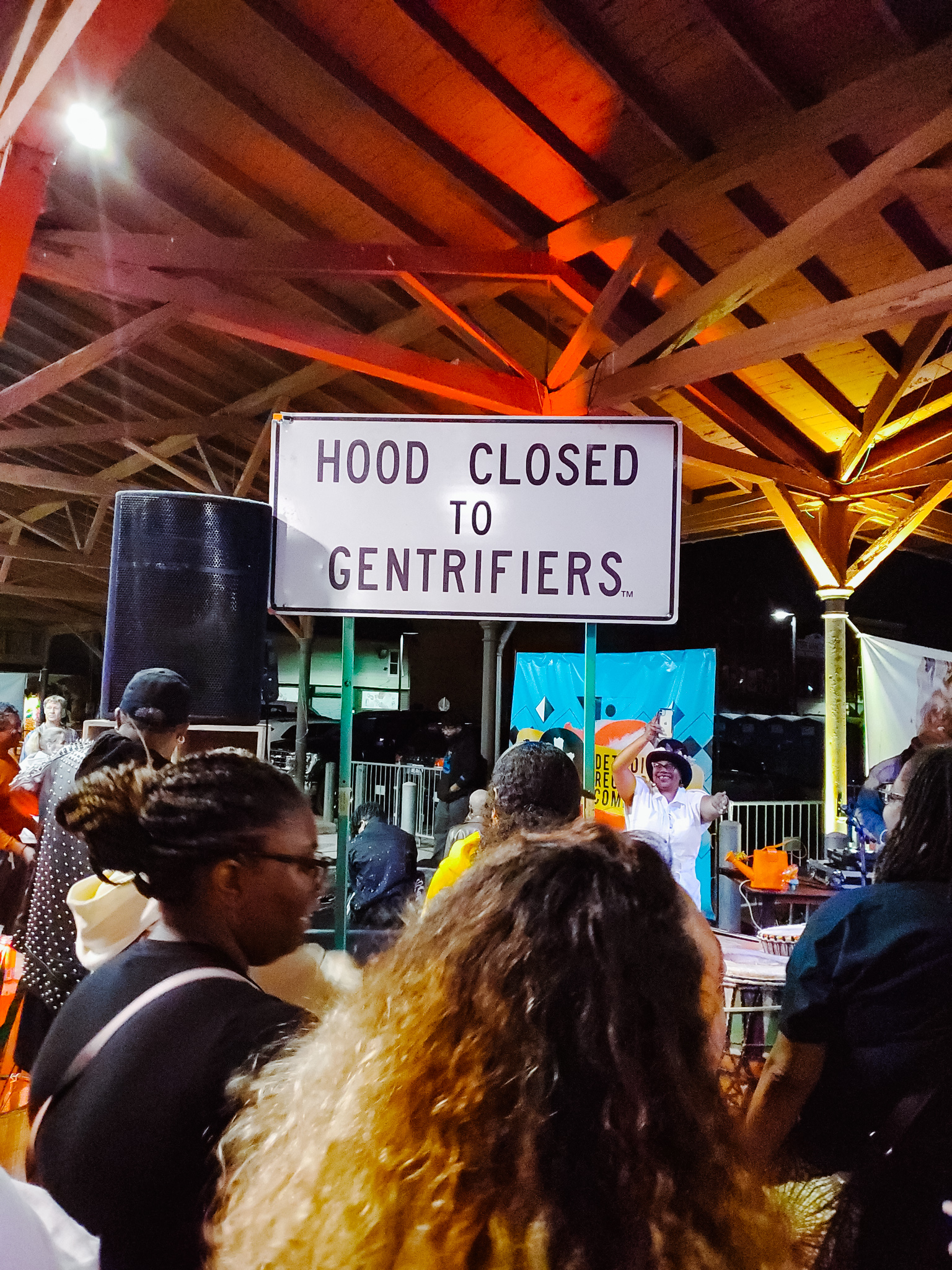 Oh, how I missed one of my favorite Detroit summer events: Eastern Market After Dark! The last time I attended Eastern Market After Dark (EMAD) was in September 2019, before COVID happened.
I like to call EMAD Detroit's end-of-summer party because it's held in the middle of September and so many people come out to celebrate!
People can be found all throughout the Eastern Market District dancing and having good time. There's live music, stylish fashion, art installations, food trucks, and pop-up markets.
Hosted in collaboration with Design Core Detroit, Eastern Market After Dark is one of the highlights of Detroit's Month of Design. I always look forward to attending the event, so as you can imagine, it was tough not having the event for two years.
And since the event had to be postponed for a couple of years, I had a feeling EMAD 2022 was going to be packed. Turns out, I was right!
I read an article that 25,000 were expected to attend EMAD. I'm not sure what the final count was on attendees, but I wouldn't be surprised if that many people (or possibly more) went to the event!
When I arrived at Eastern Market, there was an overflow of cars parked all throughout the district. It was hard for me to find parking, especially since I arrived after 7 p.m. (the event started at 6 p.m.)
So, I ended up deciding to pay for parking at the parking garage. I didn't mind, though, because I wanted to park a little closer since I knew I'd probably be leaving the event late at night.
MOM'S SOLO NIGHT OUT
This go round was different for me because I attended EMAD solo. In previous years, I always went with Travis and the kids. But Michala had to work and Elijah had other plans.
Travis got off work right at 6 p.m., so we just decided it'd be best if I went on my own. He was tired and the kids really wanted to play outside with their neighborhood friends.
It was pretty cool to go by myself, though!
At first, I felt kind of lost because I'm so used to having the kids with me pretty much everywhere! I kept feeling like I was forgetting something, or I needed to look around and make sure one of the kids was nearby.
Friends who I ran into were even surprised I was by myself. "You came without the kids?!"
I mean, I do get out on my own sometimes! I don't want to make it seem like I never do. Haha! It's just now that we're back to our full-time school schedule for the fall term, it's been a little challenging finding time for me. So, getting out to Eastern Market was a perfect event for me to enjoy on my own!
And once the mom guilt subsided, I was able to relax and enjoy my solo night out.
It was pretty cool to experience EMAD from a different perspective. I was even able to check out one of the alley parties (hosted by Eastern Market Brewing Co.), something I had always wanted to at past events but wasn't able to because I had the kids with me.
MURALS IN THE MARKET ALSO RETURNED A AFTER TWO-YEAR HIATUS
I had found out the day of the event that Murals in the Market also returned for the first time in two years.
Another Detroit event I look forward to attending in September, the Murals in the Market Festival started the same year we moved to metro Detroit.
Just like Eastern Market After Dark, the mural festival had to take a two-year hiatus because of the pandemic, so I was happy to see it return.
I didn't get to see all of the new murals for this year's festival, but I do plan on checking them out really soon. I'll share photos of the new murals in a separate blog post, too!
MORE PHOTOS OF MY TIME AT EASTERN MARKET AFTER DARK
FOLLOW ON SOCIAL MEDIA: