Hi, friends! Did you happen to stop by Eastern Market's Flower Day over the weekend? Travis and I went to the annual flower festival after a brunch date, and we had a wonderful time. It started raining toward the end of the festival, but we didn't let the rain keep us from enjoying all of the beautiful flowers.
Last year, we took our three little ones to Flower Day. Zhen and Zechariah loved picking out flowers for our garden. (Zephaniah was still a baby at the time.)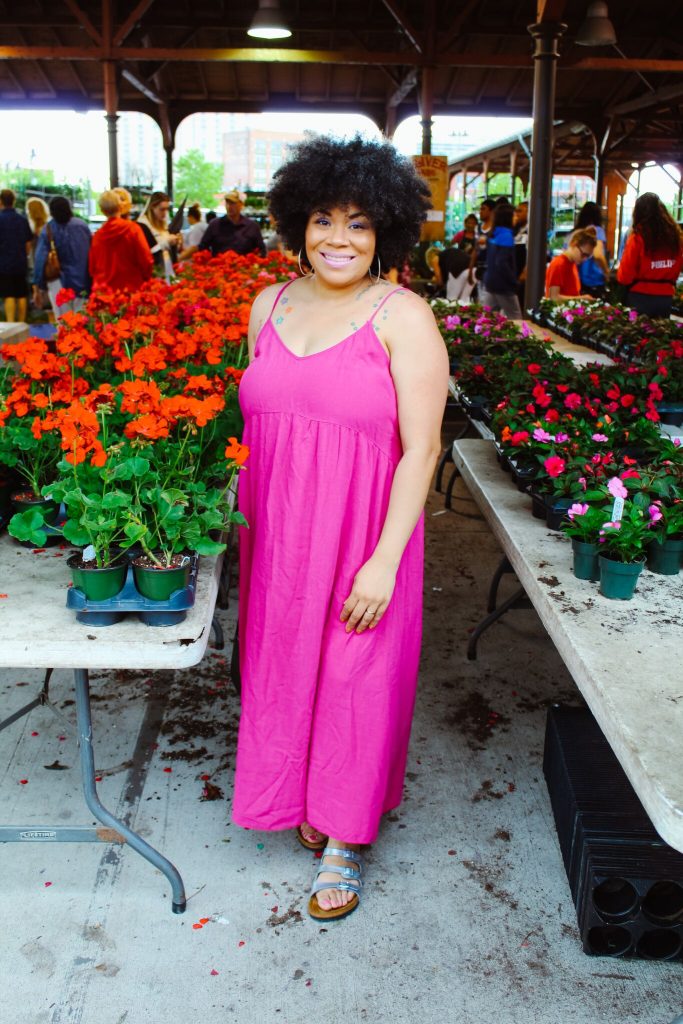 Disclaimer: This post may contain affiliate links. At no extra cost to you, when you make a purchase, we may make a small commission. Thank you for supporting Good Life Detroit. Read our disclaimer here.
Post Updated 4/28/2020
---
I remember we bought a new wagon just for farmer's market season and the kids were so excited to ride in it. It was the perfect size for them to sit in and hold a few market goods we bought. When we picked out flowers to buy, they loved carrying them to our little, red wagon. Such sweet memories!
For this Flower Day, we left the kids behind because we wanted to enjoy a Sunday day date together. I have to admit, though, it felt kind of weird not having the kids with us for the flower festival.
The mom guilt started to creep in just a bit. I had to quickly dismiss the guilty feeling and remind myself it's okay to take some time for just us! (Moms, you know what I'm talking about, too!)
One of the things I love about Eastern Market Flower Day is seeing all of the people walk around the market. So many people come from different cities and states attend Flower Day.
Some even take charter buses to travel to the flower festival! The parking lots are packed with vehicles leaving many visitors to park all throughout the Eastern Market District.
Flower Day is a beloved Detroit tradition. The flower festival started in 1967 and takes place every year on the Sunday after Mother's Day.
On my Facebook page, I mentioned Eastern Market's Flower Day is like the kickoff for garden season and the late spring season. Since Michigan tends to have very cold and long winters, we don't really start gardening until the middle of May.
12 TIPS ON NAVIGATING EASTERN MARKET FLOWER DAY
1. ARRIVE EARLY. Eastern Market Flower Day is scheduled from 7 A.M. to 5 P.M., but try your best to arrive at the beginning of the flower festival or in the morning time. That's when you will find the best flower and plant selections.
2. PREPARE FOR BUSY PARKING. Many people from all over the metro area and different states enjoy attending Flower Day. Unless you arrive early in the morning, you should expect to park far from the Eastern Market sheds!
3. BRING A WAGON (OR TWO). You will definitely need a wagon or two if you plan on buying flowers and plants. When we go to Flower Day next year, we plan to get a second wagon so we won't have to make too many trips to and from our minivan.
4. WEAR YOUR WALKING SHOES. Although the flower festival is a great time to get lifestyle photographs, I recommend you wear comfortable sneakers because you will be doing a lot of walking. If you want to wear a cute outfit, then bring your stylish shoes to change into for pictures.
5. BRING AN UMBRELLA OR RAIN GEAR. You never know if it will rain since the flower festival is held in mid-May. This year, we got rained on so I recommend bringing an umbrella and rain gear for just in case.
6. BRING CASH! Many of the vendors accept cash only so you'll want to bring cash with you. There are also ATMs at Eastern Market. I believe there is one located outside of Shed 5. However, you never know if there will be a tech issue with the ATM so it's best if you bring cash.
7. FOOD VENDORS WILL BE AVAILABLE! One of my favorite thing about going to festivals is eating at the food trucks. Many food vendors will be available for Flower Day so make sure you plan your budget to accommodate food and dessert! If you're on a tight budget, I recommend bringing an extra $10 to get at least one dessert.
8. YOU CAN BRING YOUR OWN FOOD. If you want, you can pack a lunch and snacks. We did this last year for the kids. I definitely recommend bringing snacks for your kids so you won't have to spend too much on the food trucks.
9. BRING PLENTY OF DRINKING WATER! If you plan on spending a lot of time at Eastern Market Flower Day, then make sure you pack plenty of drinking water.
10. DON'T FORGET TO STOP BY SOME OF THE LOCAL SHOPS. Usually, on Sundays, the local businesses in Eastern Market are closed. Sometimes the business owners will open on Flower Day (like Germack– my favorite place to get coffee) so make sure you look around to see if any of the local shops will be open.
11. EASTERN MARKET FLOWER DAY IS A FAMILY-FRIENDLY EVENT! Bring the kids with you! They'll enjoy Flower Day and can help pick out flowers. My little ones loved Flower Day last year and were very eager to help pick out flowers and carry them to the wagon.
12. BRING YOUR CAMERA! As I mentioned before, Flower Day is one of those events that you'll want to take many pictures. Don't forget your camera! If you don't have a camera, then make sure you properly clean your cellphone camera lens. (I recommend a soft terry cloth.) There will be many photo opportunities at the flower festival!
Did you enjoy the festival if you went? If you live outside of Detroit, does your area have a special event to welcome the gardening season?
Click here for more information and updates on Eastern Market Flower Day.
---
ALSO, CHECK OUT ON THE BLOG:
All photographs are courtesy of Jennifer Hamra for Good Life Detroit.