Busy, busy, busy. Life as a mom of six means I'm always busy with the kids, running errands, making appointments, and other home life tasks. Not to mention, I also homeschool three of my young children so having a lot of downtime can often feel like it's nonexistent.
But despite all of that busyness, I try to find moments when I can spend some time one-on-one with my children.
Over the weekend, I thought it would be fun to spend the day with Zhen. Just the two of us!
She loves having a Girls' Day Out with her big sister and me so I knew she would be excited to have a Mommy-Daughter date!
Zhen has a very bubbly personality. She loves to celebrate birthdays and holidays. She loves going to events and festivals in the city, hanging out at the mall, and going out to eat.
Almost every week, she will ask me, "Are we going to an event this weekend?!" And if we are going somewhere fun, then she will excitedly say over and over, "Oh, I'm so excited to go [insert event name]!"
When I told her we were going to spend Saturday together, just the two of us, she gasped and gave me a big hug. "Ohhh I'm so excited! What are we going to do?! I can't wait to see where we're going!"
Our agenda for Saturday:
(1) Visit Eastern Market for fall flowers, pumpkins, and some produce. Zhen really wanted to get strawberries. "Maybe we could make a strawberry pie!" she said to me on the drive to the market.
(2) Get Detroit pizza for lunch. "I just looovvvee Detroit pizza!" Zhen's favorite pizzerias in the D? Pie-Sci and Supino Pizzeria.
(3) Visit an art gallery. This was a surprise for Zhen. She loves art just about as much as I do so I knew she would enjoy going to see an art exhibit.
Our mission at the farmers' market was to find a few pumpkins for our porch. Last year, I got carried away and ended up buying way too many pumpkins… and gourds! LOL!
One time I came home with pumpkins and Travis said, "Uh…don't you think we have enough pumpkins?" haha This time I was good and I focused on getting two medium-sized pumpkins and these cute, little pumpkins.
We're going to take the kids to a pumpkin patch at a later date so they can pick out their own pumpkin and then decorate it for the porch.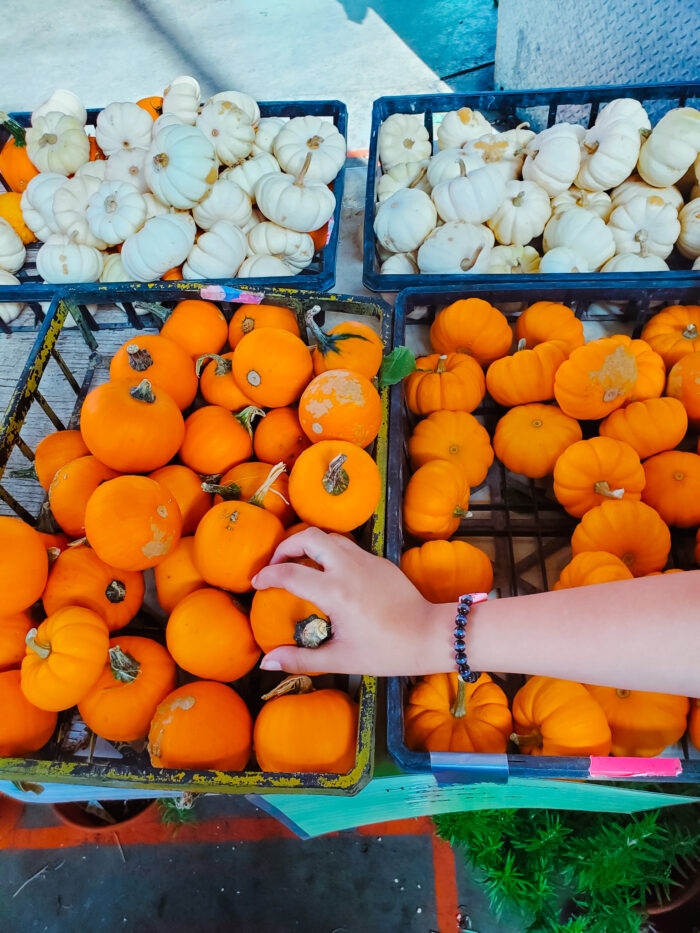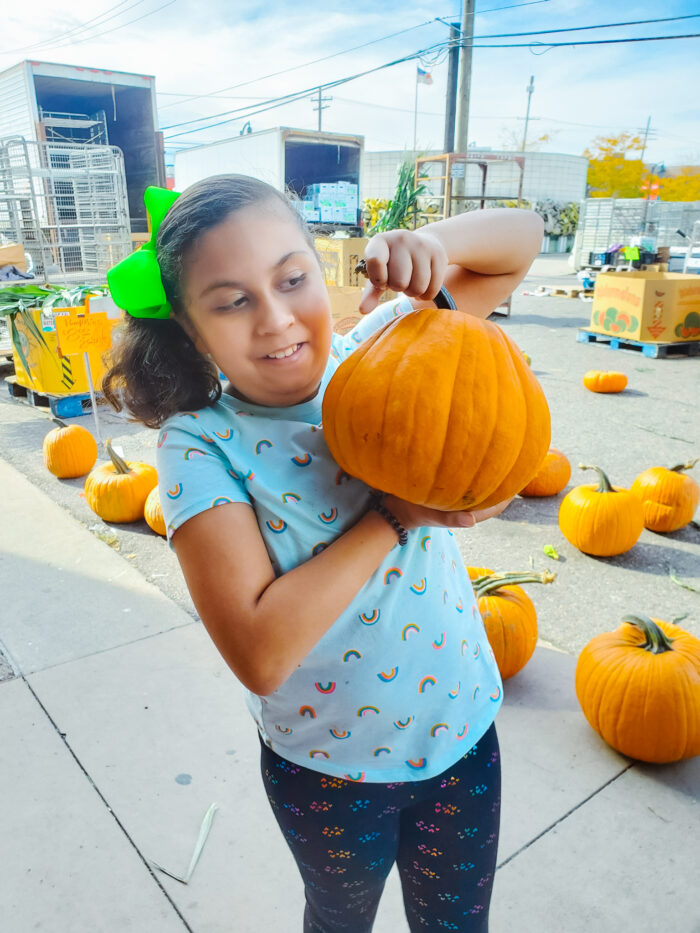 After getting a few groceries at Eastern Market, we stopped by Supino Pizzeria for lunch. I ordered a small pizza with artichoke (my favorite pizza topping!) and pepperoni (Zhen's favorite topping).
"What's artichoke?" Zhen asked me.
"It's a vegetable that's a type of flower," I told her.
"What?! We're going to eat flowers on our pizza?!" She was a little appalled at the idea. Haha!
"Broccoli is a flower, too," I explained. "Remember, when we learned in science that we can eat some flowers that are vegetables for food?"
"Ohhhh yeah. I love broccoli! Okay, I hope artichoke is good." (She loved it!)
Because of COVID, Supino's is open for carry-out only so we enjoyed eating our pizza outside near Eastern Market Brewing Co.
It was a beautiful, fall day to eat al fresco, too. The weather was sunny and warm with a gentle cool breeze.
The brewery was hosting its final weekend of Oktoberfest so we hung out just close enough to sit down and eat while listening to the live band.
Zhen was so excited there was a live band playing music. She said it was perfect for eating pizza outside in the city.
Dancing around while munching on a pizza slice, she exclaimed, "It's not a good day. It's THE BEST day!"
After our late lunch, we headed to the Womxn House Detroit art exhibit. It was perfect timing, too, because it started to rain.
Zhen was excited when I told her our last stop was to visit an art gallery. She was so surprised when she discovered the art exhibit was inside of a house.
She said, "I didn't know you could have an art gallery in your home! We do lots of art in our home, too. We have art everywhere!"
It truly was the best fall day! What are you enjoying about the fall season so far?
---
All photos by Jennifer Hamra for Good Life Detroit.
FOLLOW ON SOCIAL MEDIA: FACEBOOK |INSTAGRAM |PINTEREST |TWITTER.
ALSO, ON THE BLOG: