Two years ago, I did something bold: I got a big chop and decided to get a frohawk hairstyle! I love the edgy, punk hairstyle and how it expresses my creativity. In today's blog post, I'm sharing my thoughts on how AMAZING I felt after getting the hairstyle that was perfect FOR ME!
---
One day after getting my hair cut, I stopped by the grocery store to pick up a few things. As soon as I walked into the store, I heard a woman call out to me, "Little Sis! Little Sis!"
I looked over in the woman's direction and she said to me, "I love your hair!"
She asked me if my hair stylist suggested the hairstyle or if I already knew that's how I wanted my hair to look. I said I already knew I wanted this hairstyle.
"Well, I really love it! You are wearing it!"
I thanked her for her kind words, and we went our separate ways. As I was pushing my grocery cart through the produce section, I started reminiscing about my big chop two years ago and how freeing it felt to me to get my hair cut this short.
WHY I GOT A BIG CHOP
After growing my hair long for ten years, I was tired of the upkeep of my curls. It would always get so tangled, and I just didn't know what to do with it anymore.
Not to mention, being so busy with the kids, it seemed like I was always just throwing it up on top of my head in a big, puffy ponytail.
I wanted something easy to care for but also a cool style.
I started researching Black women short hairstyles to see what kind of style I'd like. And that's when I came across a photo of a woman with a cute frohawk. I immediately knew I wanted my hair to be cut in a similar way as hers.
There was just one tiny problem: I was too scared to get it cut that way! LOL!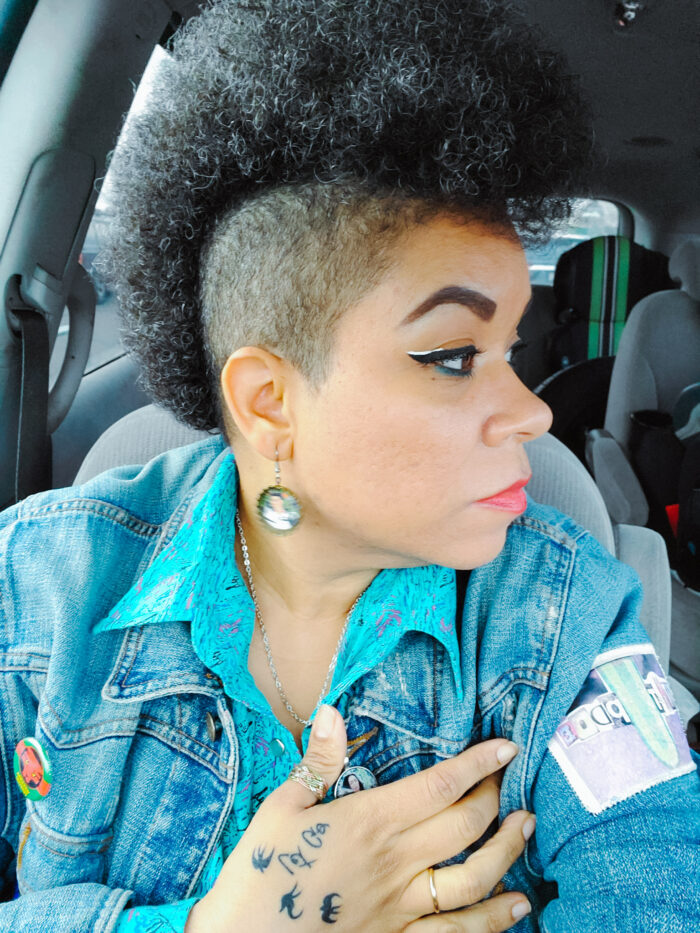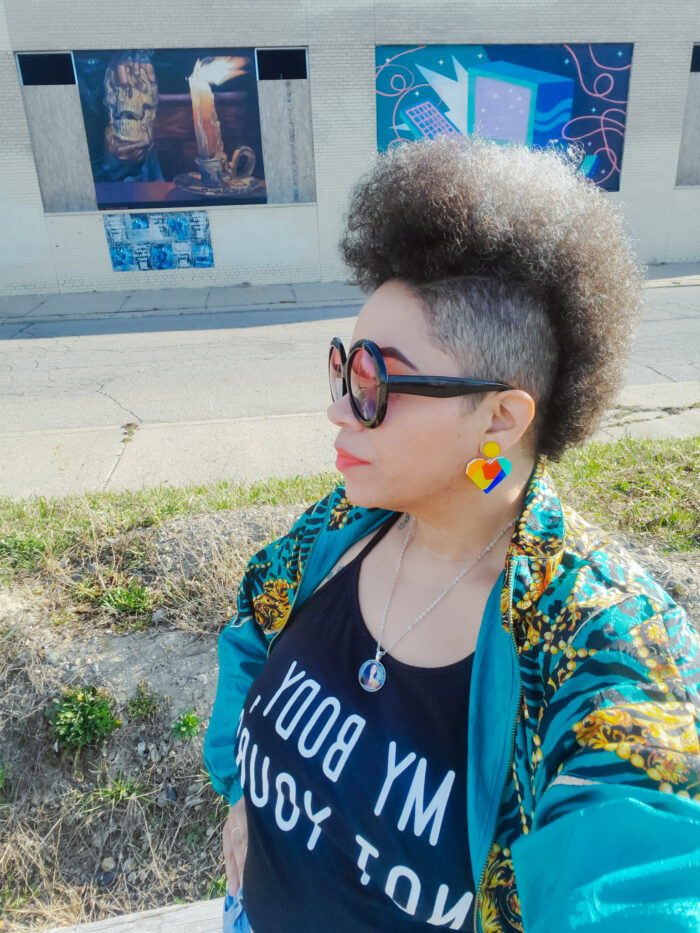 SO, I DID IT! I GOT A FROHAWK AND I LOVE IT!
Getting a frohawk felt like such a bold move for me to do, especially after having long hair for so long.
And to be perfectly honest, I was also feeling a little unsure of myself. I remember thinking I'm a mom in my 40s. I can't get my hair cut like this.
I was afraid if I got a frohawk, it'd be kind of frowned upon for me to have such an edgy style.
But after taking some time to think about it, I realized how silly that was to even worry about what other people think. I'm a grown woman! I can wear my hair however I want!
I was doing this for ME, and I really wanted a style that I loved. I wanted to try something bold and edgy, and I knew a frohawk hairstyle was perfect for me.
So, at my next hair appointment, I decided to just go for it!
Ever since then, I have been in love with this hairstyle. It just feels like me, ya know? I feel like my punk hairstyle expresses my creativity and personality.
Plus, I love how easy it is for me to care for my hair. It takes me less than 10 minutes to do my hair now! *praise hands* As a busy mom of six, that's a HUGE win for me.
Cool hairstyle and it doesn't take me forever to style my hair? PERFECT!
WHERE I GET MY HAIR CUT IN METRO DETROIT
Ali @ Motor City Hair Witch in Downtown Ferndale, MI.
Ali specializes in punk hairstyles, locs, and vibrant hair colors. She's so fun to talk to. I always enjoy my appointments with Ali, and she is passionate about what she does. Truly a hair artist!
Check out her work on her Instagram page here. Book an appointment with Ali here!
---
What do you think? Would you ever get a "bold" hairstyle?
P.S.– No matter your age, you should always get the hairstyle that you love and makes you happy! 😉 xoxo
All photographs are courtesy of J. Hamra for Good Life Detroit. This is not a sponsored post. Just sharing my favorite place to get my hair done in metro Detroit!
FOLLOW ON SOCIAL MEDIA: