If you're a native Detroiter, then you're probably familiar with Jay's Flower Shop and Wholesale. Detroit florist Mr. Jay Smith has been in business for 38 years now! His shop is located on Detroit's east side at 10500 Mack Avenue across the street from the Mack Avenue Community Church (MACC).
As a Michigan transplant, I love learning more about Detroit's history so it was a pleasure to meet Mr. Jay and discover his flower business. During my visit to the flower shop, we talked about how Mr. Jay got his start in the floral industry, the ins and outs of running a flower business, and his future plans for Jay's Flower Shop and Wholesale.
He also shared with me one of his great loves– teaching floral design and helping young entrepreneurs. Hope you enjoy learning more about Mr. Jay and his charming flower shop!
GETTING TO KNOW MR. JAY– OWNER OF JAY'S FLOWER SHOP AND WHOLESALE
Where do you like to buy flowers for holidays and special occasions? Is there a local flower shop that you like to visit?
While visiting Jay's Flower Shop, it had occurred to me it's been a few years since I've bought flowers at a local florist. I usually get our flowers from the farmer's market in the summertime and the grocery store in the fall and winter. I'm a big advocate for supporting small businesses and talking with Mr. Jay inspired me to add local florists to my list.
Floral design is Mr. Jay's specialty. He developed a talent for it when he first started working in his uncle's flower shop many years ago. After he was laid off from his job at GM, his uncle offered him a job opportunity to help him out.
"I was a novice at the time I entered into it," he recalls. "[My uncle] told me that I could make my own way and I did. But when the time came for GM to call me back, which was like maybe four years later, I had got my degree. I had turned the (flower) business around to a point where I was doing plant maintenance."
ADAPTING TO CHANGES IN THE FLOWER BUSINESS
Soon he was landing big accounts with local fast-food restaurants such as Burger King, McDonald's, and Kentucky Fried Chicken. His hard work paid off and Mr. Jay's uncle offered him a new opportunity to manage one of his flower shops called The Flower Shop. 
But the flower business has changed over the years. Mr. Jay says back in the day if you wanted to order flowers for big holidays such as Christmas and Easter, then you would go to your local florist.
If you're around my age or older, you may remember looking up flower shops in the phonebook to get the addresses and phone numbers. (I remember doing that when I was a teen and in my early 20s.) That, of course, was before we had the convenience of Googling "local florists near me" or placing flower orders online without stepping foot inside of a store.
"The flower business was much different than it is now. Much different," the Detroit florist explains. "You had to come to the florist to get a Poinsettia, Easter Lily plants. Home Depot, Lowe's, Kmart, Walmart– they all stepped into that."
With both hands, Mr. Jay scrunches his fingers to show me how the major retailers "kept shrinking" the small flower businesses. "It kept shrinking us and shrinking and shrinking. So, you know, you had to keep evolving."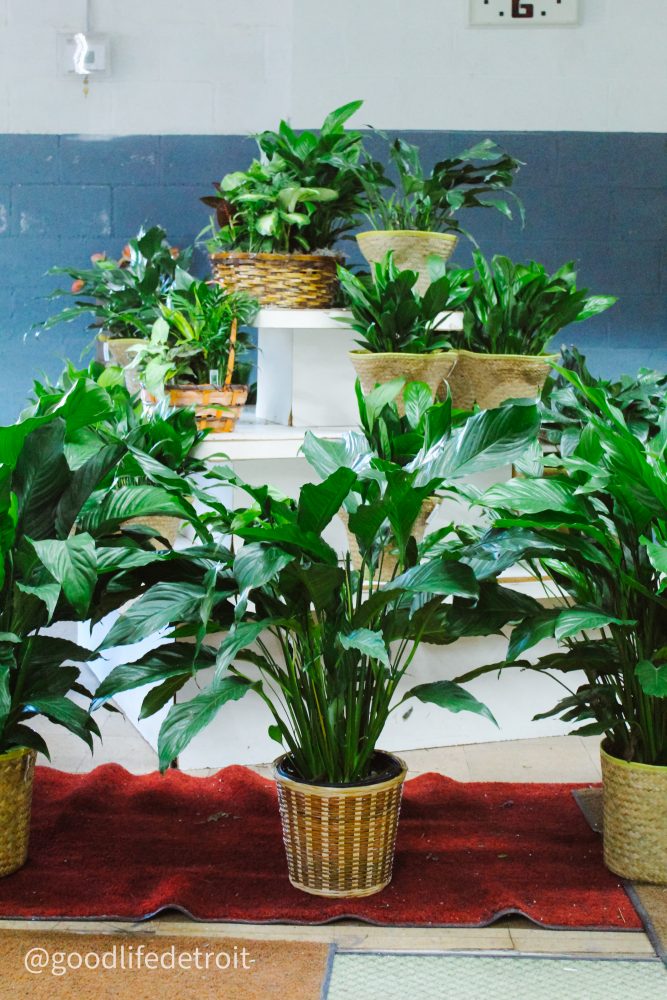 OVERCOMING ADVERSITY AND CHALLENGES
When the Detroit entrepreneur first started working in the floral industry, he says it was mostly a white-dominated business. "Back then, I want to say it was mostly white (floral business owners in Detroit)," Mr. Jay tells me. "I guess it had to be about, maybe, 10 or 12 of us that were Black (floral business owners)."
"But the city was predominantly white then, but then it flipped and the city went predominantly Black and white folks moved to the perimeter. It started happening– I want to say starting around '98. And then all up in the 2000s everything flipped. And it really flipped really bad in the early 2000s, right before Obama got elected when General Motors filed for bankruptcy."
He encountered some adversity and challenges when he tried to open his flower business in the early '80s. For instance, Mr. Jay was turned down three times for a business loan. He says it was challenging for Black Americans to secure a loan during that time.
Disappointed that he was facing such challenges, he sought advice from his uncle and other business professionals. "They told me before I even put in one brick to make sure I had the money to complete the project before I start," he explains. "So with that being said, I just became a saver. It took me two years to build the building. I had to build it out of my pocket." 
In the meantime, while Mr. Jay's new flower shop was being built, he worked across the street at one of his uncle's stores. Eventually, he was able to get a loan through his bank and open his own business.
A PASSION FOR TEACHING
We talk some more about what it takes to run a floral business. He tells me being a florist goes beyond a hobbyist or having a love for gardening. You have to also understand the business side of things. "Being a florist is a business," Mr. Jay says. "Yeah, you can put the flowers together, but can you run the business side?"
And then we talk about his passion for teaching floral design and entrepreneurship. I'm amazed to learn Mr. Jay has been teaching floral design at Wayne County Community College (WCCC) since 1989! Unfortunately, because of COVID last year, 2020 was the first year he wasn't able to teach.
"Since you were teaching there for so long," I say to him, "I'm sure that was very difficult to not be able to teach in 2020." Nodding his head, he agrees with me and replies, "Right. Because that's what I enjoy– is teaching." 
Many students enjoy taking Mr. Jay's floral design class at WCCC. A common question his students ask him is if he thinks they can run their own floral business one day. He always reminds the future florists in order to run a successful floral business, they must also learn business management and other professional skills.
"My answer to them is 'no.' You have to take the business side," he says. "Cause even if you know how to make the flowers if you don't do the business side of it, you're not gonna be here."
When I ask him why he's so passionate about teaching, Mr. Jay tells me, "Because knowledge is something that needs to be passed on. If you keep it among yourself, you can't help anybody. But if you pass the knowledge on, your legacy continues to move on." 
"…knowledge is something that needs to be passed on. If you keep it among yourself, you can't help anybody. But if you pass the knowledge on, your legacy continues to move on."

Mr. Jay Smith, owner of Jay's Flower Shop and Wholesale
LEAVING A LEGACY FOR THE MACK AVENUE COMMUNITY
"48214 is known as a desolate area," Mr. Jay tells me. He's referring to the Mack Avenue community located in Detroit's 48214 zip code. According to Mr. Jay, many years ago there were 25 to 30 flower shops on the east side. Now he says there are only a few florists in the neighborhood.
"The reason it's desolate is because all of the people are moving. It's five businesses that's left here on the strip. From the time that I came here in '83, there's five viable businesses [and] we all manage to stay here. We've all been here 30 plus years."
Leaving a legacy within his community is important to Mr. Jay. It's one of the reasons why his flower shop is still open after 38 years of business. He thought about retiring and closing his shop for good, especially after the pandemic. But after connecting with Canfield Consortium and Reverend Leon, the pastor of MACC, he had a change of heart.
Prior to the pandemic, Mr. Jay had plans to start a nonprofit in the Mack Avenue community. "COVID just wrecked the whole plans on what I was going to do," he says. He said 2020 was a scary time, and sadly, he lost loved ones, too. After losing his mother, aunt, and cousin, Mr. Jay said, "That kind of took the wind out of my sails."
Through his partnership with MACC and Canfield Consortium, Mr. Jay is focusing on serving in his neighborhood and strengthening the community. It's important to him to be part of the neighborhood's renewal process. His thoughts are: "I could stay or I could go. What do you want your legacy to be? You're getting close to being one of the oldest people down here."
Thirty-eight years of business is a great accomplishment to achieve and Mr. Jay's longstanding flower shop has become a cherished symbol in the 48214 community.
And it's his love for his community that also motivated him to build his flower business. "I didn't build it for me. I built it for the community," he tells me. "I wanted us in this neighborhood to have something nice…and it was important that this got built because now you can see that this is what you can do."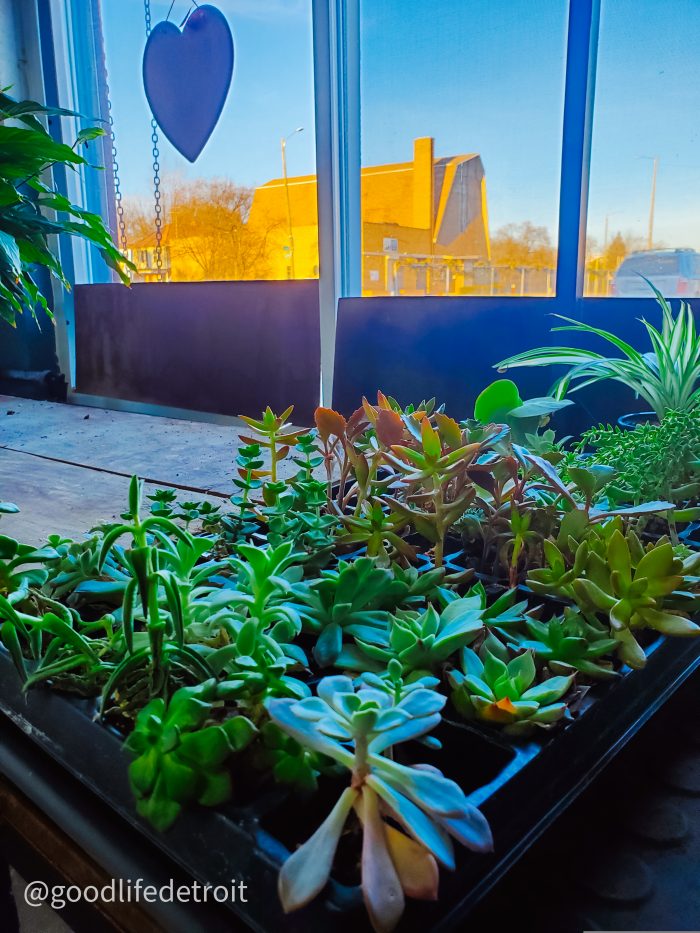 MR. JAY'S ADVICE FOR ENTREPRENURS & OTHER PROFESSIONALS
Before wrapping up our meeting, I ask Mr. Jay what advice would he give entrepreneurs today. "Life is a crooked road, but you have a goal in mind," he says.
"To get to that goal it's like the Olympics– you gotta get over these hurdles. These hurdles are there for a reason because when you get to the end after you did all them hurdles, you're much stronger. You're much smarter. And you have accomplished your goal. And that's what's more important, is to accomplish the goal no matter how long it takes."
The seasoned, Detroit florist cautions entrepreneurs to be patient and understand that it takes time to grow their business. "It takes a while. Nothing is just going to happen overnight," he advises.
"You gotta be ready for that process. So you take it in little small intervals. You have a plan and you stick to your plan. You don't get greedy and try to gouge because when you get greedy and gouge, my term is: the greedy always become the needy."
---
Special thanks to Detroit florist Mr. Jay and Canfield Consortium! Connect with Mr. Jay's flower shop on Instagram and visit the store at 10500 Mack Avenue in Detroit. Also, follow Canfield Consortium on their Instagram and visit their official website here.
Photographs taken by Jennifer Hamra with permission at Jay's Flower Shop and Wholesale.
ALSO, ON THE BLOG:
OVER ON INSTAGRAM