Summer is finally here and the kids are ready to have some fun in the sun. Before you hit the pool and water parks, first learn essential summer safety tips to help keep you and the kids cool this summer!
---
Happy Summer!
Are you excited it's officially the summer season? The kids and I are looking forward to spending more time outdoors. One of our favorite summer activities is to attend city festivals in the Detroit and metro area. Every weekend there is something fun to do with the family. It will keep us busy for sure!
Aside from all of the fun in the sun, summertime also means hot weather. I love the outdoors, but I am honestly not looking forward to the heat. The hot weather and humidity can really put a damper on outdoor fun because you just feel miserable when you are outside.
Another issue with the hot weather is keeping the kids cool. Heat-related injuries such as dehydration, heat asphyxiation, heat exhaustion, and sunburns are some of the top risks for children when they are out in the heat. "The worst is heat asphyxiation," says Donna Bucciarelli, a Registered Nurse and Trauma Injury Prevention Education Coordinator at Beaumont Hospital in Royal Oak, Michigan.
"We're hearing so many times about kids being left in cars. We can try and help parents remember [to not leave children in a vehicle] with strategies." These safety tips and strategies can help prevent heat asphyxiation and vehicular heatstroke deaths.
According to Kids and Cars, forty-three children died in 2017 from heat-related deaths after being trapped inside vehicles. In an overwhelming majority of child vehicular heatstroke deaths, it was a loving parent that unknowingly left their child in a vehicle.
Why are children being left unattended in hot vehicles? Kids and Cars state many parents and caregivers are misinformed about the risks of vehicular heatstroke. Parents would like to believe they could never forget their child in a vehicle, but it can happen to anyone. It's important to know the risks and implement safety precautions to keep children safe.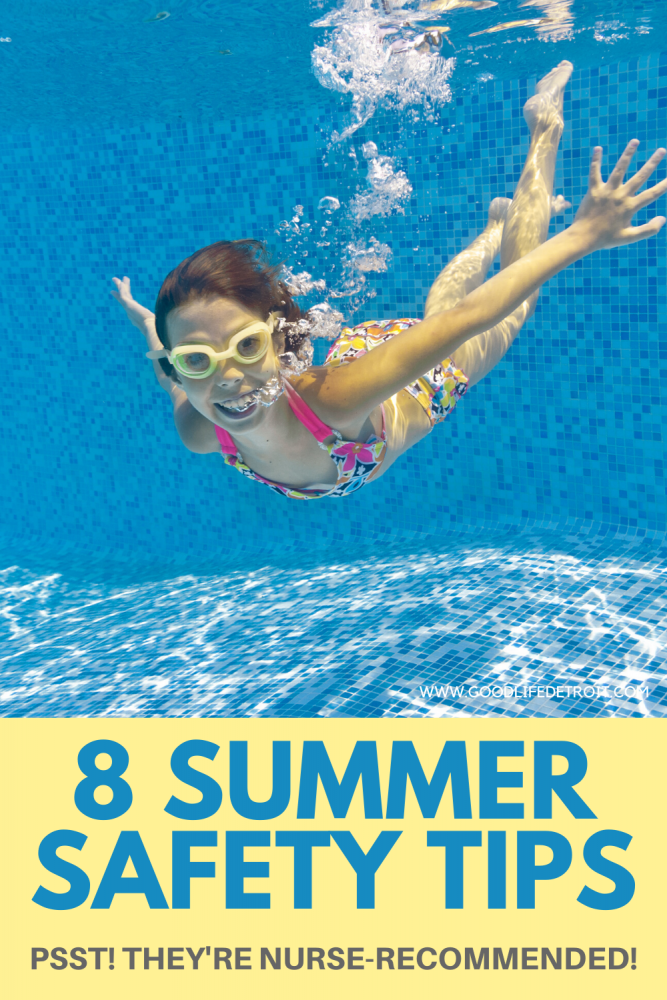 8 SUMMER SAFETY TIPS TO KEEP KIDS COOL THIS SUMMER
If your family is like mine, then you may love to spend as much time as you can outdoors. There's nothing like being out in the fresh air and enjoying the sunshine.
Unfortunately, though, the heat can make it very challenging to enjoy the outdoors. Last week, I connected with Ms. Bucciarelli and we talked about the risks of heat-related injuries and safety tips for keeping children cool in the summertime.
Along with her position as a Trauma Injury Prevention Educator at Beaumont Hospital, Ms. Bucciarelli also has a background in pediatric nursing. She shared with me eight summer safety tips to help parents keep their kids cool during the summer.
Ms. Bucciarelli recommends the following ways you can keep the kids cool when you're outside:
1. DRINK MORE WATER. According to Ms. Bucciarelli, it is recommended for children to drink 50% more water than usual. The increase in your child's water intake helps prevent dehydration.
For breastfed babies, moms can increase the baby's fluid intake by also increasing her fluid intake. That means more water for you, too, Mama!
For babies under the age of six months, she cautions parents to make sure they are more observant of their little ones. Babies under six months cannot have water or other drinks so it is really important you keep an eye on baby.
Babies who are over six-months-old, however, are old enough to drink water and other drinks.
Here are a few drinks Ms. Bucciarelli recommends for babies over six months:
Water
Pedialyte
Flavored Water
BONUS SUMMER SAFETY TIP: Skip the fruit juices to avoid sugary drinks. Add fresh fruit to your babies cool water instead. Slice up some oranges, pineapples, or strawberries and shake up the bottle.
2. SEEK SHADE. When it's hot outside, finding shade is important to keep your kids cool. You can find trees for shade or a shaded area at outdoor events.
Many pools and water parks now feature shaded areas for families to keep cool. You can also seek shade under pavilions at parks.
3. TAKE AN UMBRELLA. "If you're not sure there will be trees," Ms. Bucciarelli says, "take an umbrella." She recommends using a sports umbrella because it features side panels for extra coverage.
Some sports umbrellas also include wind flaps for ventilation and airflow like The Sport-Brella.
4. WEAR A HAT. Use wide brim hats or a hat with a flap in the back to protect your child's neck.
"We worry about our faces, but sometimes we forget the back of our neck," Ms. Bucciarellis says. "And that's a pretty painful place to get a sunburn."
5. WEAR LIGHTWEIGHT COTTON AND LIGHT-COLORED CLOTHING. "The minute you get that sunburn, the sun feels ten times hotter," Ms. Bucciarellis advises.
"Even if your clothing does get a little damp if there is a breeze that is going to evaporate and it might feel a little cooler."
6. WEAR SUNGLASSES. Sunglasses are a great way to protect kids' eyes when it's really bright outside. You can find fun kids' sunglasses at your local retailers such as Target or Walmart.
If your little one always takes off his sunglasses, then try sunglasses with a strap to go around his head.
7. GO TO THE POOL OR BUY A KIDDIE POOL TO PUT IN THE SHADE. On very hot days, Ms. Bucciarelli suggests not taking your kids to the pool. "When you're in and out of the water, then how do you manage the sunscreen if your baby is old enough to wear sunscreen?"
She went on to explain children are in and out of the water so much that sometimes you may forget to reapply sunscreen.
BONUS SUMMER SAFETY TIP:

Don't forget to keep your eye on the kids when they're in the pool. Ms. Bucciarelli says a tragedy can happen in just a matter of seconds. Always have someone watching the kids when they are playing in the pool.
8. STAY INDOORS ON REALLY HOT DAYS. Sometimes it's just too hot to play outside. If it's over 90° outside, Ms. Buccairelli recommends finding an indoor activity for children to enjoy.
There are many fun things to do inside, such as visiting the library, going to the mall, or playing at your local museum. You don't have to let the heat ruin your summer plans. You just have to make some adjustments to keep the kids safe because our children's safety is what matters most.
Are there any safety tips you'd add to the list?
Special thanks to Donna Bucciarelli from Beaumont Hospital in Royal Oak for taking the time to interview with Good Life Detroit!
---
ALSO, CHECK OUT ON THE BLOG: