Eminem's new restaurant Mom's Spaghetti opened today in Downtown Detroit. The concept restaurant is based on the famous opening lyric of the Detroit rapper's Grammy Award-winning song "Lose Yourself."
"His palms are sweaty, knees weak, arms are heavy // There's vomit on his sweater already, mom's spaghetti // He's nervous, but on the surface he looks calm and ready…"

Lyrics from the Grammy Award-winning song "Lose Yourself" by Eminem
Mom's Spaghetti is located inside Union Assembly at 2131 Woodward Avenue in Downtown Detroit.
WHAT'S ON THE MENU AT MOM'S SPAGHETTI?
The menu is pretty simple– just spaghetti and the 'Sghetti sandwich.
I tried the spaghetti with meatballs and 'Sghetti sandwich and both dishes are good. The spaghetti comes with half a slice of garlic bread.
Mom's Spaghetti $9 (with meatballs, $12)
'Sghetti Sandwich, $11
Pop or Water, $3 (Pepsi, Diet Pepsi, Mt. Dew)
You can also get a vegan spaghetti option (Mom's Spaghetti with Rabbit Balls) for $14.
Food orders are placed and served at a walk-up window in the alley (located between the Fillmore and Union Assembly). Limited seating is available inside of the bodega space.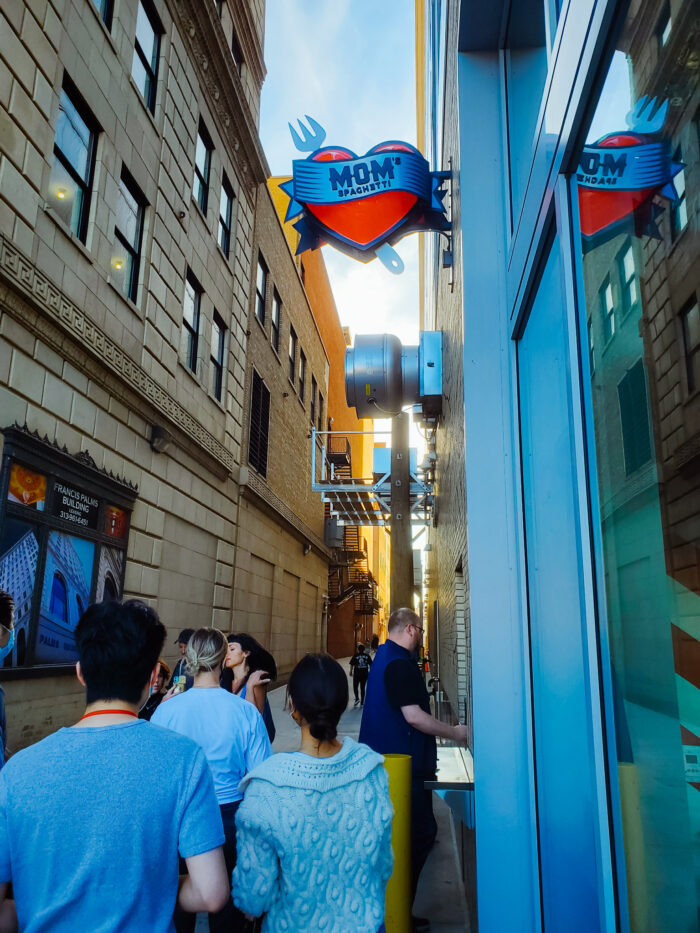 MOM'S SPAGHETTI STARTED OUT AS A POP-UP IN 2017.
Mom's Spaghetti was originally launched in 2017 as a pop-up at The Shelter, which is located below Saint Andrew's Hall in Detroit. The pop-up also made appearances at a few other music events where Eminem performed: Coachella, Firefly, and Governor's Ball.
The pop-ups were the perfect opportunity to see how well the concept would do. Eminem's manager Paul Rosenberg had this to say about Mom's Spaghetti's grand opening:
"The previous pop-ups were really a test for us to determine whether there was enthusiasm for a regularly-occurring Mom's Spaghetti spot that would be open all year long," Paul said.
"We are really pleased to announce the arrival of the walk-up restaurant and adjacent upstairs store, called The Trailer, where fans can experience a uniquely-curated environment and obtain merch and other items from Eminem and his new pasta operation."
EMINEM AND PAUL ROSENBERG PARTNERED WITH UNION JOINTS ON THE CONCEPT RESTAURANT
For the pop-up series and the Detroit brick-and-mortar location, Eminem and Paul partnered with Metro Detroit-based restaurant group Union Joints. Ann Stevenson, co-owner of Union Joints, designed the restaurant.
"We've had a lot of fun putting this project together with the folks at Union Joints, and the response from fans has been overwhelmingly positive," Paul said about the partnership.
Curt Catallo, co-owner, of Union Joints added, "When we were first tapped to create the pop-ups it was an honor for all of us involved. The opportunity to build a permanent location based on an incredibly meta-reference was one that everyone at Union Joints, as a Metro Detroit restaurant group, took very seriously."
"We're proud of the fact that we created a scratch sauce that tastes like it's straight from the jar, and wok-firing the noodles gives it that leftover pasta snap. The walk-up window and small diner-like spot for people to eat add to the feeling that this is a homegrown, DIY experience. And The Trailer retail space that Ann (Stevenson) designed is a nod to Eminem's character in 8 Mile…it's something that belongs in Detroit, and it feels right at home in this space."
THE TRAILER– EMINEM RETAIL STORE NOW OPEN ABOVE MOM'S SPAGHETTI.
There will also be a retail store located above Mom's Spaghetti. Only eight customers are allowed in the store at a time. The Trailer will feature the following:
Mom's Spaghetti merchandise
items from Eminem's retail collection (including limited editions and coveted dead stock)
memorabilia from the Eminem archives
There will be product drops and rotating stock at the store, too!
Prepare for a long wait time. The past two days the line to the walk-up restaurant was wrapped around the building.
Visit Mom's Spaghetti online or you can call the restaurant directly at (313) 888-8388 for more information.
Do you plan on visiting Mom's Spaghetti? Have fun and be safe if you decide to go! xoxo
(Note: This post was updated on 9/30/21.)
---
ALSO, CHECK OUT ON THE BLOG: