Detroit's been buzzing about Eminem's new restaurant Mom's Spaghetti. Have you tried it yet? I visited the restaurant on the second day of its grand opening so I thought I'd share my thoughts with you on what I think of it!
THE SHORT ANSWER: As a mom of six who cooks spaghetti often, I would order Mom's Spaghetti with the meatballs and the 'Sghetti sandwich again.
MORE IN-DEPTH REVIEW: Well…just keep reading! 😉
WHEN DID MOM'S SPAGHETTI OPEN?
Co-owned by Eminem and his manager Paul Rosenberg, Mom's Spaghetti officially opened on Wednesday, September 30th in Downtown Detroit. It's located inside Union Assembly at 2131 Woodward Avenue.
However, it's not a sit-down restaurant. Instead, you place your order at the walk-up window located in the alley between the Fillmore and Union Assembly.
Limited seating is available inside of the bodega space if you would like to hang out and eat there.
I listened to Eminem's recent interview with Rude Jude on Shade 45 (Eminem's hip hop radio station on Sirius XM), and Em and Paul said the idea to open Mom's Spaghetti started out as a joke.
But after "mom's spaghetti" went viral as a meme, they thought it would be cool to explore opening the concept restaurant.
Partnering with Metro Detroit-based restaurant group Union Joints, Mom's Spaghetti first launched in 2017 as a pop-up at The Shelter (located below Saint Andrew's Hall in Detroit).
The pop-up also made appearances at a few other music events where the Detroit rapper performed: Coachella, Firefly, and Governor's Ball.
"The previous pop-ups were really a test for us to determine whether there was enthusiasm for a regularly-occurring Mom's Spaghetti spot that would be open all year long," Paul said in a previous article.
"We are really pleased to announce the arrival of the walk-up restaurant and adjacent upstairs store, called The Trailer, where fans can experience a uniquely-curated environment and obtain merch and other items from Eminem and his new pasta operation."
WAITING IN A LONG LINE TO TRY MOM'S SPAGHETTI
I read online that on the grand opening day, many fans camped out super early to try the restaurant. I'm guessing it was probably in hopes of seeing Eminem himself, and for a few lucky fans, that's exactly what happened.
Several Detroit news outlets reported Eminem made a surprise appearance and served spaghetti orders to the first 10 fans in line.
Okay, so I'm not usually the type of person who camps out early in the morning and stands in long lines for grand openings, new releases, or mega sales.
What can I say? I couldn't help myself. The excitement of one of my favorite music artists opening a local business and also being spotted in the area got to me.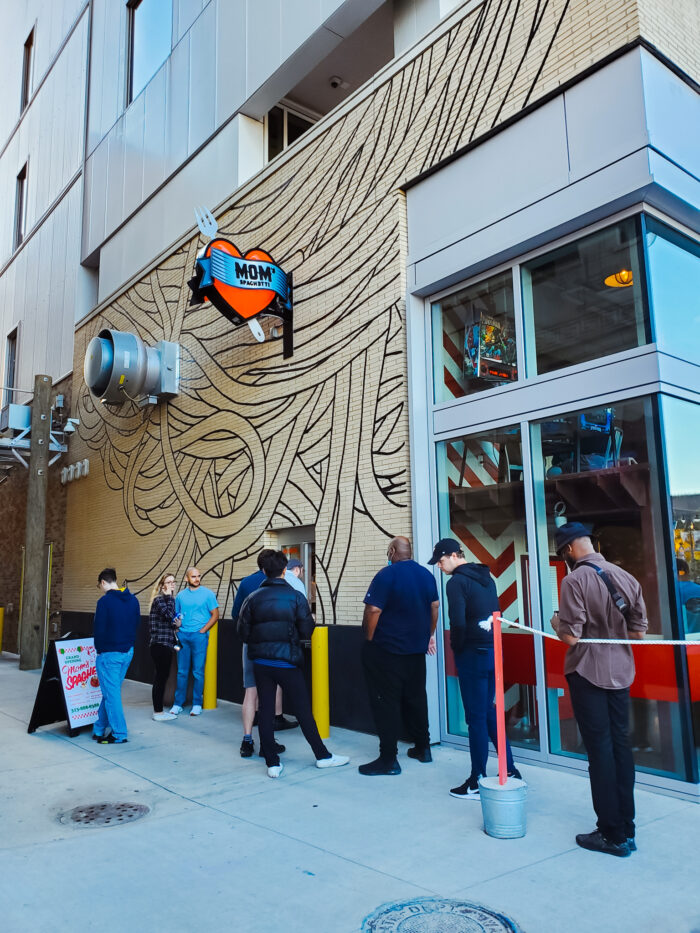 So the next day, I found myself standing in line waiting to try Mom's Spaghetti.
I mean, I was kind of, sort of in the area. I was in Ferndale near Woodward Avenue at a hair appointment, and after I got my hair done, I just thought to myself, Well, I'm already over here. I have a little time to kill before Travis gets off work.
So yes, I braved it and stood in the long line to try Mom's Spaghetti. Haha! (Okay, and maybe I was lowkey hoping Eminem would make another surprise appearance again.)
My wait time wasn't too bad, though. I was probably in line for about 30 minutes. I think it's because I got there a little after 5 p.m.
However, once I got my order and left the alley, there were more people standing in line and it wrapped around the building.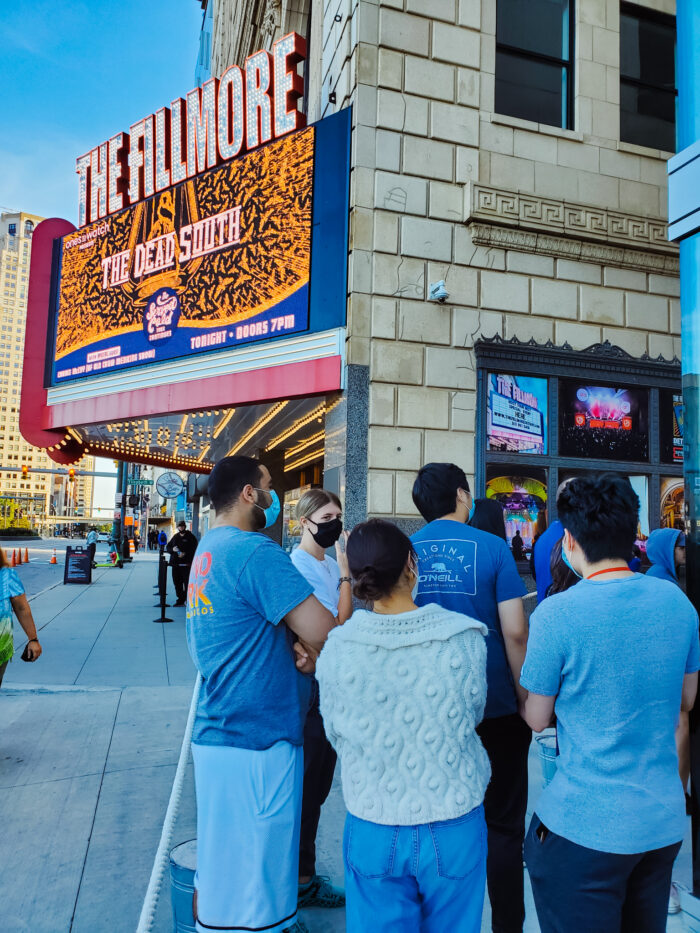 IS MOM'S SPAGHETTI ANY GOOD?
I ordered two orders of spaghetti and meatballs and one 'Sghetti sandwich. The pasta comes in a carton box similar to a takeout box you would get at a Chinese food restaurant.
And you get a large amount of spaghetti, too. I was really surprised! I ended up having leftovers because it was so much spaghetti.
THAT GARLIC BREAD, THO!
Each spaghetti meal comes with a half piece of garlic bread (so good!). I had wished it was a whole piece and not just the half. Lol!
The spaghetti isn't gourmet pasta, but it is tasty. I would eat it again, especially over McDonald's or another chain fast food restaurant.
Lately, I've been trying to get food at a local business when I need something inexpensive and quick to eat. So Mom's Spaghetti has been added to my go-to list of restaurants whenever I'm downtown.
I read a few reviews that stated it tastes like leftover spaghetti and I agree with this opinion. It does have that familiar reheated spaghetti taste.
The meatballs looked like they were kind of dry so I was worried it wasn't going to taste too good. But to my surprise, I liked the meatballs, too.
WHAT DOES THE 'SGHETTI SANDWICH TASTE LIKE?
For Travis, the 'Sghetti sandwich had a nostalgic feeling for him. "That's my preferred way to eat spaghetti," he told me. "I've been eating like that for as long as I can remember. It reminds me of how I used to eat my own mom's spaghetti."
He said the oily Texas toast didn't bother him. He liked the crispiness of the garlic bread because" it provided a satisfying crunch combined with a soft texture of spaghetti."
I took a couple of bites of his 'Sghetti sandwich and I thought it was pretty good, too. I've never had a spaghetti sandwich before, though.
It was an adjustment for me to get used to the texture of the pasta in between two pieces of cheesy bread. But I did like it! (I just didn't like how oily the sandwich was.)
WHAT'S EMINEM'S FAVORITE DISH AT MOM'S SPAGHETTI?
According to Eminem, the best way to eat your spaghetti is as a sandwich with garlic bread. "It's definitely some white trash shit," he said during the Shade 45 interview with Rude Jude. "I still eat it today."
"Don't even eat a bite of your spaghetti until you put it in the bread. Then eat it," Eminem explained, "because, otherwise, you're gonna ruin the whole fucking thing. Don't be stupid… Before anything else, you put your spaghetti on the bread. If I fucking catch you doing that without the fucking bread, I don't know what I'm gonna do. There's gonna be hell to pay."
(Yikes! Lol, I thought it was funny.)
WOULD I EAT AT MOM'S SPAGHETTI AGAIN?
As I mentioned earlier, yes, I would eat at Mom's Spaghetti again. I think it's an acquired taste, though. It really just depends on how you like your spaghetti cooked.
If you're looking for a fancy pasta meal, then Mom's Spaghetti probably isn't for you.
But if you're wanting something prepared quick and a simplistic spaghetti meal, then you will like Mom's Spaghetti.
Eminem's new restaurant is also a must-try for true Eminem Stans or if you're just really curious to see how it tastes.
If the fam and I were hanging out downtown (and the wait time wasn't too long), then I would definitely get the spaghetti for the kids.
They really liked it when we had it for dinner last week. Zhen even asked if we could go back to the restaurant again and "get more of that yummy spaghetti!"
But you know my baby girl is just like me— she loves trying Detroit food and exploring the city!
And I already know Travis would want the 'Sghetti sandwich. He still talks about how much he loves it.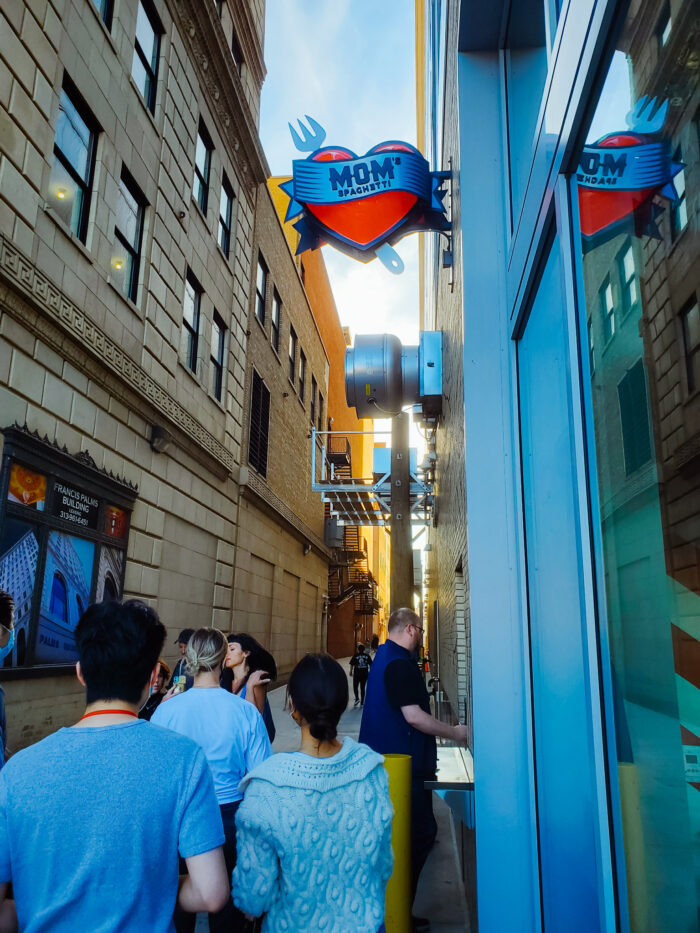 MOM'S SPAGHETTI IS GOOD FOR KIDS WHO ARE PICKY EATERS
I also think Mom's Spaghetti is perfect for little ones who are picky eaters. Zechariah (6) is always so picky about what he eats.
He won't even eat multigrain bread if he sees the grains on the crust because he thinks the bread is "dirty." Haha!
But spaghetti and pretty much all pasta dishes are always a big hit with him.
AND IT'S BUDGET-FRIENDLY… except for the drinks. Three bucks for a canned pop and water is kinda pricey for me, especially for my family size of eight!
However, I do like the price of the meals. I think it's budget-friendly when you take into consideration the generous helping you get.
For about $12 (spaghetti and meatballs), you get a pretty good size portion. It's enough to feed three toddlers. Maybe even four?
GOOD CUSTOMER SERVICE AT MOM'S SPAGHETTI
The service was friendly and quick. When you place your order at the walk-up window, the cashier will first ask for your name and then take your order.
My order was ready within five minutes or so! I was impressed.
Overall, I think visiting Mom's Spaghetti is worth the visit. It's budget-friendly, perfect for kids, and a must-see for Eminem fans locally and beyond.
It's all about having fun!
This would make a cool date night idea or a great place to bring a relative or a friend visiting from out-of-town for a fun, Detroit tourist attraction.
And don't forget your camera! If you love documenting your favorite places to eat, then Mom's Spaghetti is an Instagram- TikTok-worthy hot spot.
What do you think of Mom's Spaghetti? Are you an Eminem Stan? Visit Mom's Spaghetti online here.
Have fun and be safe if you decide to go! xoxo
P.S.– This is NOT a sponsored post. I paid $35 plus a tip for my food order.
---
All photos were taken by Jennifer Hamra for Good Life Detroit.
FOLLOW ON SOCIAL MEDIA: FACEBOOK | INSTAGRAM | PINTEREST | TWITTER.
---
ALSO, CHECK OUT ON THE BLOG: