On Saturday, I attended The Opening Artist Talk featuring Stickwork by North Carolina artist Patrick Dougherty. As part of this year's Detroit Month of Design, the art event was held at Eliza Howell Park in Detroit's Brightmoor community.
Stickwork is a collaborative effort with Eliza Howell Park Partnership, Sidewalk Detroit, the City of Detroit, The Greening of Detroit, and community members in Brightmoor.
Patrick completed Stickwork during his three-week artist residency in Detroit. Along with Sam Dougherty, Patrick's son and construction assistant, local artists and volunteers also helped with the construction of the sculptures.
An internationally acclaimed eco-artist, Patrick has built over 300 sculptures like the one featured at Eliza Howell Park!
His award-winning artwork has been exhibited throughout the U.S. and other countries such as France, Japan, and Scotland.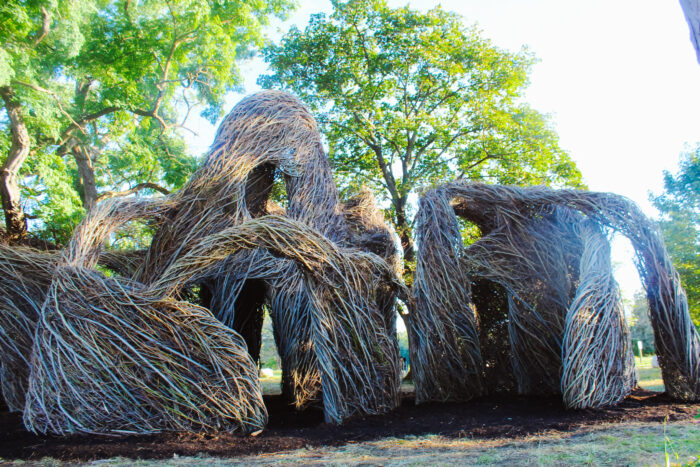 ---
"We are so excited to see this project come to life after so many years of planning. Patrick's process is really unique in that it truly takes a village to make it happen. Our hearts have been touched and moved by the people who are coming out to help us build this beautiful structure."

Ryan Myers-Johnson, Sidewalk Detroit Executive Director
---
BRING THE FAM TO ELIZA HOWELL PARK TO EXPERIENCE 'STICKWORK'!
Stickwork is a family-friendly art experience so make sure you bring the kids out! They will love exploring the inside of the art sculptures.
During the event, I saw many children happily running through the openings of the sculptures playing hide-and-seek and tag. I can only imagine how magical the experience was for them to see these beautiful, gigantic structures made of trees and other natural materials.
It's the perfect setting for children's imagination to roam free. (Yes, even us big kids, too!)
---
---
WHERE TO FIND 'STICKWORK' IN DETROIT
LOCATION: Eliza Howell Park, 23751 Fenkell Ave (Detroit)
WEBSITE: http://elizahowellpark.com/
---
"This unique project will bring awareness to the many ways that trees and natural elements can enhance public space and also showcase the hundreds of trees that were recently planted at the park through our reforestation and environmental impact projects."

Lionel Bradford, The Greening of Detroit Executive Director
---
MORE PHOTOS OF STICKWORK AND PATRICK'S WORK
Here are a few photos from the art opening, volunteers helping with the construction of Stickwork, and Patrick's amazing work featured in other places.
Click on an image to open the photo gallery in full view.
Visit Patrick Dougherty's official website here to learn more about his work. Click here to connect with Sidewalk Detroit on Instagram.
All photographs, unless otherwise noted, were taken by Jennifer Hamra for Good Life Detroit.
FOLLOW ON SOCIAL MEDIA: FACEBOOK |INSTAGRAM |PINTEREST |TWITTER.
---
ALSO, CHECK OUT ON GOOD LIFE DETROIT: