Today on the blog, I'm sharing two of my favorite plus size vintage style ideas for running errands and a date night in the city!
---
Saturday (4/2/22) was a busy day for me. I had a bunch of errands to run in the daytime, and then later that evening, Travis and I had plans to for a date night.
We attended a play at the Detroit Repertory Theatre. (It was The Rep's return to public shows after being closed for two years because of the pandemic!)
I wanted to wear something fun for running my errands to I decided to wear my new 90s vintage style pants with a retro Aaliyah grapic tee!
I just feel like if I have to do the mundane stuff, like paying the bills and grocery shopping, I might as well wear a fun outfit!
HOW WOULD I DESCRIBE MY STYLE?
My style is casual, street style. I like to mix modern styles with vintage.
I don't really follow trends for two reasons: (1) it doesn't fit my budget, and (2) I just like to do my own thing!
I'm still learning how to create my own, unique style and so far, it's been a fun journey! Sometime soon, I'll write a blog post sharing my favorite style bloggers and creatives.
WHERE DO I BUY MY CLOTHES?
I try to buy my clothes at the thrift store, resale/vintage shops, or consignment stores. If I do shop fast fashion, then it's usually Old Navy because Old Navy jeans fit me well.
And sometimes if I see a graphic tee that I love, then I'll get it from a major retailer.
I also like to to create a capsule wardrobe for each season. This way it's budget-friendly and I don't get overwhelmed with having too many clothes.
WHERE DO I BUY MY SHOES?
I like to buy my shoes from brands like Vans and Timberland. Since I prefer to have a seasonal capsule wardrobe, I buy quality brand shoes that will last me for a few years.
Occasionally, I will buy shoes from a resale or thrift store. You can find brand new shoes at resale/thrift stores. You just have to know what to look out for!
---
NOTE: This post may contain affiliate links. Read my disclosure policy here.
---
RUNNING ERRANDS, PLUS SIZE VINTAGE STYLE
For running my errands, I decided to wear my new, comfy 90s vintage pants with an Aalyiah graphic tee, my favorite jean jacket, and my black Sk8-Hi Vans sneakers.
Last month, I bought my vintage pants at Mama Coo's Boutique in Corktown, Detroit. The pants are 90s vintage athletic pants. They're a little baggy and very comfortable to wear.
I was even thinking about wearing my pants to the theatre (haha), but since the weather was still cold, I felt it was the best time to wear my vintage purple dress. Once the weather warms up, I won't be able to wear the dress.
Mama Coo's is one of my favorite shops to find resale and vintage styles in Detroit. I also love getting my accessories and home decor there. If you're ever in the area, make sure you check out the boutique!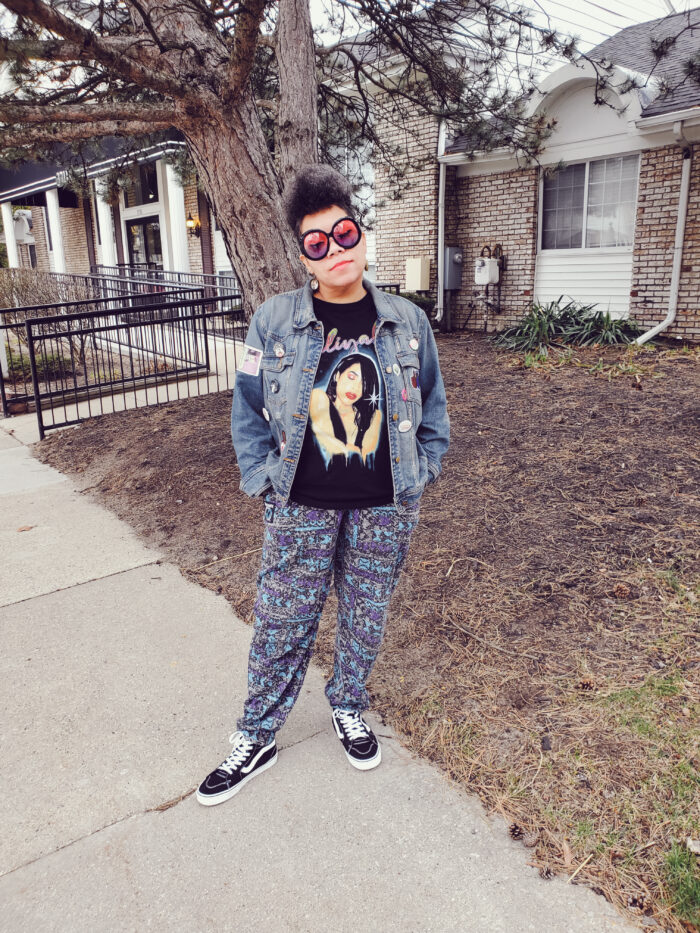 OUTFIT DETAILS:
SHOP THE LOOK!
Click the links below to shop my 90s vintage style.
---
DATE NIGHT VINTAGE STYLE
Then for date night, I wore a purple vintage dress with a black faux leather jacket and snake print knee-high boots. My favorite part about this outfit was mixing the prints!
I wore a 1984 vintage Sky West belt with my vintage dress. It was a lucky find I discovered at the thrift store.
VINTAGE STYLE DATE NIGHT OUTFIT DETAILS
vintage purple dress: Flamingo Vintage (Detroit)
belt: vintage 1984 Sky West belt buckle (Made in Albuquerque, New Mexico.)
snake print boots: Target
black faux leather jacket: women's consignment
SHOP THE LOOK!
Click the links below to shop my date night vintage style.
CHECK OUT MY INSTAGRAM REEL OF MY VINTAGE STYLE
I'm starting to get the hang of making IG Reels. It was a little challenging at first, but the more you practice, the better you get at it!
I made this cute 10-second reel of my two vintage outfits. Click HERE to watch it and let me know what you think! xoxo
---
ALSO, CHECK OUT ON THE BLOG